5 Types of Software Every Business Should Have
One of the things that I have learned over my career of being in business is that good software can make you a ton of money and will make managing a business a lot less stressful.
I have listed 5 of the most critical pieces of software that I wouldn't even try to run a business without.
Here are the 5 types of software every business should have
Business accounting is a complex and critical process, and accounting software is an essential tool for managing it effectively. Accounting software can automate many of the tasks of accounting, including bookkeeping, invoicing, and financial reporting. This can save businesses considerable time and effort, and allow them to focus on other areas of their operations. In addition, accounting software can help businesses to stay compliant with tax regulations and other financial requirements. By simplifying and streamlining the accounting process, accounting software can be a valuable asset for any business.
FreshBooks was by far was the easiest to use and had the most options. It was the closest to a full accounting software as you can get without spending a small fortune, and it will handle all the needs of a small business. 
FreshBooks has lots of features that are essential to running your business. It can keep track of income and expenses, and can integrate with your bank account to show you where you stand. 
Some of the stand-out features I liked of FreshBooks are: 
Professional Invoicing – Impress Clients with customizable professional invoices that clearly show the work you have done. 
 Expenses – Never miss a expense, you can snap receipt photos, email receipts to your account, and import expenses directly from your bank account. 
Track time to the minute – You can work on multiple projects at once and log the times into FreshBooks. This will automatically add the time to invoices if you choose to bill that way. 
Set up Multiple Projects – Projects allow you share information all in one place and keep everyone updated. 
Automated Payments – You can give your clients multiple ways to pay. From credit cards to multiple other options, making it easy for your client to pay their invoices.
Reporting – FreshBooks can track every dollar in and out of your business so you can run any report you want to diagnoses any issue you may have with cash flow. This also makes it easy at the end of the year when tax time comes around. 
Accounting – Has Double-Entry Accounting tools and reports that are the standard for all accredited accounting firms. 
Mobile – You can send invoices track expenses, and check up on projects all on the go with the FreshBooks mobile app.
Good Customer Support – FreshBooks says that a real human will always answer your calls and help you with your questions. 
Pricing: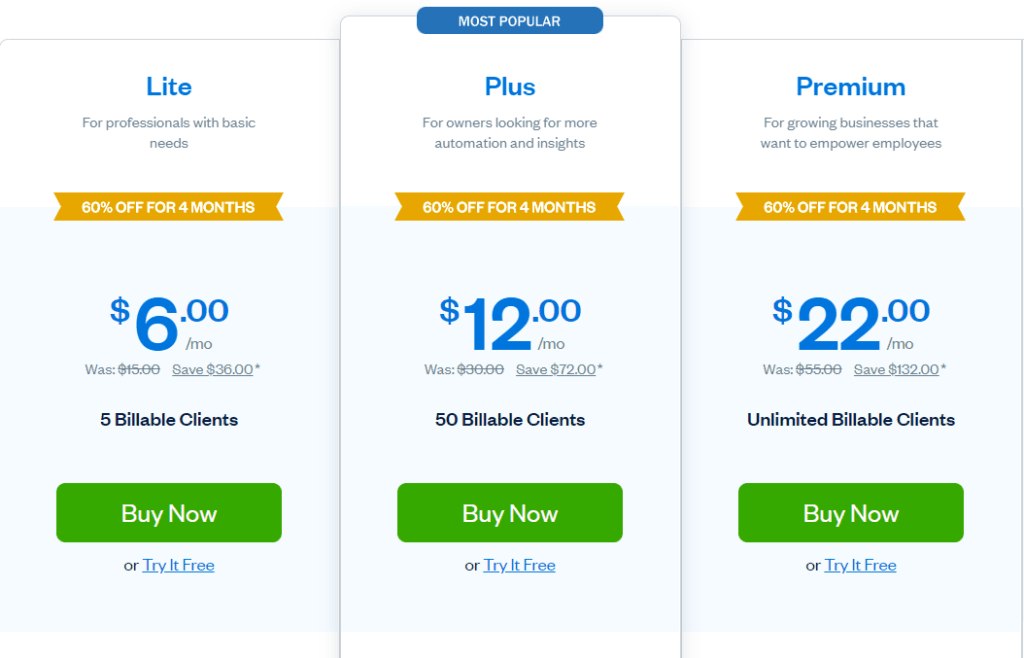 Invoicing  Software Is A Crucial Tool For Small Businesses. 
It allows you to create and send invoices quickly and easily, keeping track of payments and outstanding balances. With so many different options on the market, it can be hard to know which one is right for your business. 
Here are four key features to look for in a good invoicing software:
1. 
Ease of use

: The invoicing software should be easy to set up and use, with a user-friendly interface.
2. 
Invoice customization

: The invoicing software should allow you to customize your invoices to match your brand identity, including your logo, color scheme, and contact information.
3. 
Payment processing

: The invoicing software should offer convenient payment processing options, such as online payments or integrations with popular payment processors such as PayPal or Stripe and Square.
4. 
Reporting

: The invoicing software should provide valuable insights into your business through comprehensive reporting features. This data can help you track your progress, identify areas of improvement, and make better informed decisions about your business.
Best free invoicing software - Wave
Wave accounting software is invoicing tool for small businesses. Wave helps business owners keep track of their finances, create invoices, and manage payroll. The software offers a suite of features specifically designed for small businesses, including Wave Payroll and Wave Invoicing. Wave accounting software is easy to use and offers a free trial, so you can decide for yourself if it will work for you. 
What I liked about Wave: 
100% free if you don't use any addons 
Get paid via credit card if you sign up for their credit card processing service
Wave can send overdue reminders automatically
Has a recurring billing function
Invoicing and payment information can sync with your account
Pricing: Free
The main reason small businesses should use payroll software is to make the process of managing employee payroll easier and more efficient. By using software specifically designed for this task, businesses can automate many of the processes involved in paying employees, including generating pay slips, calculating taxes and superannuation payments, and preparing year-end statements. This can save time and ensure that all aspects of payroll are accurately handled. In addition, using quality payroll software can help to keep employee satisfaction and morale high by ensuring that pay is managed effectively and on time.
When choosing a payroll software, it is important to select a package that is compatible with the accounting software you are already using. This will ensure that data can be easily transferred between the two systems, and that all aspects of your payroll management are handled in a coordinated manner. There are a number of different vendors offering quality payroll packages, so it is important to compare features and prices before making a decision.
Once you have selected the payroll software that best meets your needs, it is important to ensure that it is properly installed and configured. This process will vary depending on the package you have chosen, but most packages will require you to enter employee information into the system and then specify how often they should be paid. In some cases, it may also be necessary to set up direct deposit accounts in order to receive payments directly into your bank account.
After the payroll software is installed and configured, you will need to run regular pay cycles in order to keep accurate records of employee hours worked and to calculate appropriate taxes and superannuation payments. Pay cycles should be run at least monthly, although more frequent pay cycles may be necessary depending on the number of employees you have and the complexity of your payroll management needs. In addition to running regular pay cycles, it is also important to generate year-end statements for all employees in order to keep track of their total compensation over the course of the year.
By using quality payroll software, small businesses can streamline their payroll management processes and save time and money. In addition, by using software that is compatible with their accounting software, businesses can ensure that all aspects of their payroll are handled in a coordinated manner.
The payroll software I have had good success with is ADP, Sage and FreshBooks.
The benefits of using CRM software for small businesses are many and varied, but one in particular is that it can help you better understand your relationship with customers. The data displayed by these programs allows entrepreneurs to see exactly how often they're interacting or dealing directly with each individual client, which means no more guessing about who's going out of their way on an offline level! This information is valuable because it helps entrepreneurs determine which interactions are positive and which ones need improvement. Additionally, CRM software can help entrepreneurs identify customers who are going above and beyond to support the business. These programs can offer a major advantage to small businesses because they provide entrepreneurs with a straightforward interface. Even newbies will feel at home within seconds after signing up for CRM software like Zoho tools. 
A good CRM tool will allow you at a glance to see how many sales calls your sales team is making. It allows you to see how many pitches are scheduled and how many have been completed each day. 
5. Communication software
Communication is essential to the successful operation of any small business. The ability to communicate effectively and efficiently, both internally and externally, is vitally important.  Communication software, such as Skype and Slack and Zoom, will allow your team to communicate and collaborate more effectively on all projects. It will also allow your business to engage with customers and workers regardless of their locality. The ability for a modern small business to engage with global markets through the use of modern communication technology is almost unthinkable. Effective use of communication software will allow your business to expand the horizon of its potential customer base exponentially. In short, communication is key, and workflow and communication software are essential tools in any small business owner's arsenal.
Frequently Asked Questions
What kind of software do you need for a small business?
The 5 essential types of software every business needs are
Accounting Software
Invoicing software
CRM Software
Payroll Software
Communications Software
Which Software is best for my business?
The best software for your business is going to depend on the size of your business and where you are in your business startup.
The best rated software for businesses are:
Freshbooks
ADP
Wave Accounting
Monday
Salesforce
What systems do I need for my business?
As a small business owner, you wear many hats. In addition to being the CEO, CFO, and head of HR, you also have to keep track of inventory, manage customer relationships, and handle payroll. It can be a lot to keep straight, and that's why having the right systems in place is essential for success.
One of the most important systems for any business is an accounting system. This will help you keep track of your finances, including income and expenses. You'll also be able to see which areas of your business are generating the most revenue and where you may need to cut costs. 
Another good essential system for any business is a customer relationship management (CRM) system. This will help you keep track of your customers' contact information, purchases, and communication history. Having a CRM system will enable you to provide better customer service and build strong relationships with your customers.
 Finally, a payroll system is also a must-have for any business. A good payroll system will help you ensure that your employees are paid on time and accurately. It will also help you manage employee benefits and compliance with tax laws. Having these three systems in place will go a long way toward helping your business run smoothly and efficiently.
What software do most companies use?
Most companies are going to use the following systems:
Accounting software
Asset management software
CRM software
Microsoft 
Google 
Phone software
Other articles you may like