Optimizing your business profile on Google is a crucial step towards establishing a strong online presence and maximizing your visibility to potential customers. As an expert Google Business Profile optimization specialist at Rock Dell Digital, we understand the importance of leveraging this powerful platform to drive business growth. A well-optimized Google Business Profile can significantly impact your local search rankings, attract more customers, and enhance your brand reputation.
With billions of searches happening on Google every day, ensuring that your business profile stands out from the competition is essential. By following proven optimization strategies, you can effectively showcase your business information, engage with your target audience, and ultimately drive more traffic and conversions. Whether you're a local brick-and-mortar store, a service-based business, or an online retailer, investing time and effort into optimizing your Google Business Profile is a smart move that can yield substantial returns.
In this guide, we will walk you through the fundamental steps to optimize your business profile on Google. From claiming and verifying your business to managing customer reviews, selecting the right categories, and optimizing your photos, we will cover all the essential elements to help you create a compelling and engaging online presence. By implementing these strategies, you'll increase your chances of attracting and converting potential customers who are actively searching for products or services that you offer.
Remember, optimization is an ongoing process. Regularly monitoring and updating your business profile, analyzing insights, and adapting to customer needs will ensure that you stay ahead in the competitive digital landscape. So let's dive in and discover the key techniques to optimize your Google Business Profile, boost your online visibility, and drive business success
How to claim and verify your business profile
Creating a Google My Business account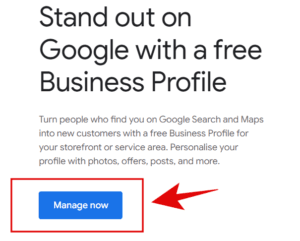 Visit the Google My Business website (www.google.com/business) and sign in with your Google account.
Click on "Manage Now" to start creating your business profile.
Enter your business name, address, phone number, website URL, and other relevant information.
Example: Suppose you own a local bakery called "Sweet Delights." When creating your Google My Business account, provide accurate details such as the bakery's name, address (123 Main Street), phone number (555-123-4567), and website (www.sweetdelightsbakery.com).
Verifying ownership of your business
Google requires verification to ensure that you are the rightful owner or representative of the business.
Choose the verification method that suits you best: postcard verification, phone verification, email verification, or instant verification (if eligible).
Example: After submitting your business information, Google may send a postcard containing a verification code to your bakery's physical address (123 Main Street). Once received, you can enter the code in your Google My Business account to verify your ownership.
Claiming and verifying your business is a crucial first step as it gives you control over your Google Business Profile and ensures that you can manage and optimize it effectively. Without verification, you won't be able to make changes or access all the features and insights provided by Google My Business.
Accurate and Consistent Business Information
Providing correct and up-to-date contact details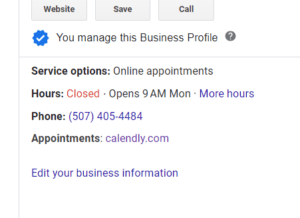 Double-check and update your business phone number, email address, and website URL.
Ensure that the contact information listed matches the information on your website and other online directories.
Example: If your bakery's phone number recently changed to 555-987-6543, make sure to update it in your Google Business Profile to avoid confusion for potential customers. Consistency across all platforms is crucial to maintaining a professional and trustworthy image.
Choosing accurate business categories
Select the most relevant primary and secondary categories that accurately describe your business.
Avoid broad or misleading categories that don't align with your products or services.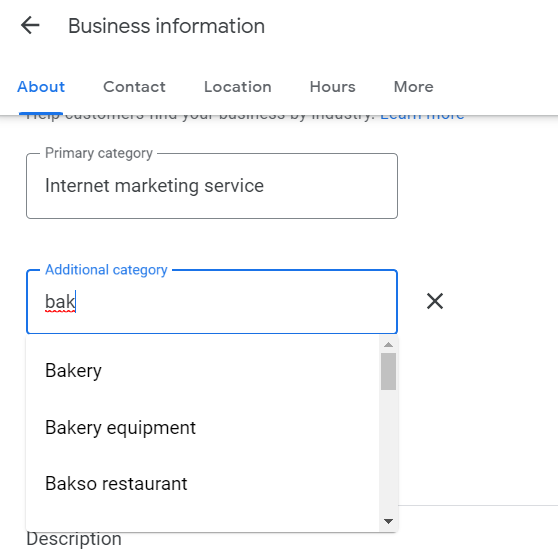 Example: As a bakery, you should choose the primary category "Bakery" and secondary categories like "Cakes," "Pastries," and "Bread." This helps Google understand your business and display it to users searching for specific bakery-related keywords.
Using a consistent business name, address, and phone number (NAP)
Ensure that your business name, address, and phone number are consistent across all online platforms, including your website, social media profiles, and online directories.
Avoid variations or abbreviations unless they are consistent across all platforms.
Example: If your bakery is registered as "Sweet Delights Bakery LLC," use the same name consistently. Avoid using "Sweet Delights Bakery" on your website and "Sweet Delights Bakeshop" on your Google Business Profile. Consistency helps search engines and customers associate the correct information with your business.
Maintaining accurate and consistent business information is vital for both search engines and potential customers. It establishes trust and credibility while ensuring that customers can easily reach and engage with your business.
How to Write a Compelling Business Description
Writing a concise and engaging business description
Craft a compelling business description that highlights your unique selling points, brand story, and key offerings.
Keep it concise, informative, and engaging, capturing the essence of your business.
Example: For the bakery "Sweet Delights," a captivating business description could be: "At Sweet Delights, we blend passion, creativity, and the finest ingredients to create delectable pastries, cakes, and bread. From our classic French croissants to custom-designed celebration cakes, every bite is a moment of pure delight. Step into our warm and inviting bakery, where our skilled bakers bring sweetness to life."
Highlighting unique selling points and value propositions
Showcase what sets your business apart from competitors.
Emphasize unique features, quality, exceptional customer service, or any awards or certifications.
Example: Sweet Delights could highlight its unique selling points by stating: "Our commitment to using organic and locally sourced ingredients sets us apart. Every item is freshly baked from scratch daily, ensuring unmatched flavor and quality. We take pride in our personalized service, catering to dietary preferences and creating stunning custom cakes that leave a lasting impression."
Incorporating relevant keywords for search optimization
Research and identify keywords relevant to your business and target audience.
Integrate these keywords naturally within your business description to enhance search visibility.
Example: To optimize for local searches, Sweet Delights may include keywords like "best bakery in [city name]," "artisanal pastries," or "wedding cakes [city name]." These keywords help Google associate your business with specific search queries, increasing the chances of appearing in relevant search results.
Crafting a compelling business description is crucial as it serves as a snapshot of your business and its unique offerings. By effectively communicating your value proposition and incorporating relevant keywords, you can capture the attention of potential customers and encourage them to engage further with your business.
Use High-Quality Business Photos
Uploading high-resolution photos of your business
Include visually appealing images that showcase your products, services, and premises.
Use high-resolution photos that are clear, well-lit, and accurately represent your offerings.
Example: Sweet Delights can upload high-quality photos of their freshly baked goods, displaying their intricate designs, vibrant colors, and enticing textures. Close-up shots of their pastries, bread, and cakes can evoke a sense of indulgence and attract customers.
Including professional images of your products or services
Hire a professional photographer or use high-quality smartphone cameras to capture your offerings.
Highlight the unique features, craftsmanship, or presentation of your products or services.
Example: Sweet Delights can feature professional images of their specialty cakes, showcasing the intricate details, smooth frosting, and creative designs. These images can capture the attention of potential customers who are searching for visually appealing and personalized celebration cakes.
Include images showcasing your physical location or premises
Provide a glimpse into your physical location or store ambiance.
Display images of your welcoming storefront, interior setup, or outdoor seating area if applicable.
Example: Sweet Delights can include photos of their cozy bakery interior, with inviting seating arrangements and shelves displaying their freshly baked goods. This can create a sense of warmth and entice customers to visit and experience the ambiance in person.
High-quality and visually appealing photos not only enhance the aesthetics of your Google Business Profile but also help customers visualize your offerings. By showcasing the craftsmanship, quality, and ambiance of your business through compelling images, you can capture the attention and interest of potential customers, increasing the likelihood of them choosing your business over competitors.
Attract More Positive Reviews
Encouraging satisfied customers to leave reviews
Provide excellent customer service and exceptional experiences to encourage positive reviews.
Ask satisfied customers to share their feedback and experiences on your Google Business Profile.
Example: Sweet Delights can train their staff to provide friendly and attentive customer service, ensuring that every interaction leaves a positive impression. They can then politely request customers to leave a review and share their delightful bakery experience on their Google Business Profile.
Responding to customer reviews promptly and professionally
Regularly monitor and respond to customer reviews, both positive and negative.
Thank customers for positive feedback and address any concerns or issues raised in negative reviews.
Example: When Sweet Delights receives a positive review praising their delicious pastries, they can respond with a personalized message, expressing gratitude and inviting the customer to visit again soon. In the case of a negative review, they can respond promptly, apologize for any inconvenience caused, and offer a resolution or contact information to address the customer's concerns.
Managing and addressing negative reviews constructively
Handle negative reviews with professionalism and empathy.
Use negative reviews as an opportunity to showcase your commitment to customer satisfaction by addressing concerns and offering solutions.
Example: If Sweet Delights receives a negative review regarding a customer's unsatisfactory cake order, they can respond by apologizing for the experience and asking the customer to reach out directly to resolve the issue. This shows potential customers that Sweet Delights takes customer feedback seriously and is willing to go the extra mile to rectify any problems.
Positive customer reviews not only build trust and credibility but also influence potential customers' decision-making. By actively engaging with customer reviews, both positive and negative, you demonstrate your commitment to customer satisfaction and create a positive image for your business. Encouraging and managing customer reviews effectively can significantly impact your reputation and attract new customers to your business.
Post Accurate Business Hours
Providing accurate opening and closing hours
Ensure that your business hours are updated and reflect your regular operating schedule.
Double-check for any changes during holidays, special events, or seasonal variations.
Example: Sweet Delights should accurately specify their daily business hours, such as Monday to Friday from 8:00 AM to 6:00 PM, Saturday from 9:00 AM to 5:00 PM, and Sunday closed. It's important to keep these hours updated to avoid any inconvenience for customers.
Updating special hours for holidays or events
Modify your business hours during holidays, special occasions, or temporary closures.
Update your Google Business Profile in advance to inform customers about any schedule changes.
Example: During the holiday season, Sweet Delights may extend their business hours to accommodate increased customer demand. They should update their profile with the revised hours, such as staying open until 8:00 PM on weekdays and opening on Sundays from 10:00 AM to 4:00 PM. This ensures that customers are aware of the adjusted hours and can plan their visits accordingly.
Accurate business hours are essential for managing customer expectations and ensuring a smooth experience. By providing up-to-date information, you help customers know when your business is open for business, reducing the likelihood of disappointment due to misinformation. Regularly reviewing and updating your business hours, including special occasions, demonstrates your commitment to serving customers effectively.
Include Website and Appointment Links
Adding a link to your business website
Include a direct link to your website on your Google Business Profile.
Ensure the link leads to a relevant and user-friendly landing page.
Example: Sweet Delights can add a link to their website (www.sweetdelightsbakery.com) on their Google Business Profile. This allows customers to easily navigate to their official website, where they can explore their menu, view galleries of their creations, and find additional information about their bakery.
Including links to book appointments or make reservations
If applicable, provide a direct link for customers to book appointments or make reservations.
Streamline the booking process and make it convenient for potential customers.
Example: Sweet Delights can include a booking link that directs customers to an online reservation system or a contact form for custom cake orders. This simplifies the process for customers who are interested in securing a spot or placing an order, enhancing their overall experience.
By providing a direct link to your website and including booking or reservation links, you make it easy for customers to engage with your business and take the desired actions. These links can drive traffic to your website, increase conversion rates, and streamline the customer journey from discovering your business on Google to taking the next steps towards engaging with your products or services.
Relevant Business Services and Products
Select appropriate attributes to describe your business
Utilize the business attribute feature on your Google Business Profile.
Choose attributes that accurately represent your business and its offerings.
Example: Sweet Delights can select attributes such as "Bakery," "Cake Shop," "Pastry Shop," and "Custom Cakes" to highlight the core aspects of their business. These attributes help potential customers understand the specialty and focus of the bakery.
Adding specific features or amenities to attract customers
Identify unique features or amenities that set your business apart.
Include relevant attributes to highlight these distinctive aspects.
Example: Sweet Delights can add attributes like "Gluten-free Options," "Vegan-Friendly," or "Outdoor Seating" if they offer these specific features. This allows customers with dietary preferences or those seeking outdoor seating options to easily identify Sweet Delights as a suitable choice.
By selecting relevant business attributes, you provide potential customers with additional information about your business, making it easier for them to determine if your offerings align with their needs and preferences. These attributes can help differentiate your business from competitors and attract a targeted audience that is specifically interested in the features and amenities you provide.
Frequently Asked Questions (FAQs) Section
Address common customer queries in the FAQs section
Identify frequently asked questions related to your business or industry.
Compile a list of relevant questions and provide concise and informative answers.
Example: Sweet Delights can address common customer queries such as:
"Do you offer gluten-free options?"
"What are your popular cake flavors?"
"Do you accept custom cake orders for special occasions?"
Providing informative and helpful answers
Craft clear and detailed answers that address each question.
Anticipate and address potential concerns or hesitations customers may have.
Example: Sweet Delights can provide answers like:
"Yes, we offer a variety of gluten-free options for customers with dietary restrictions. Our gluten-free items are prepared in a separate area to avoid cross-contamination."
"Our popular cake flavors include classic options like chocolate, vanilla, and red velvet, as well as unique flavors such as salted caramel and raspberry lemon."
"Absolutely! We specialize in custom cake orders for birthdays, weddings, and other special occasions. Please contact us in advance to discuss your requirements and design ideas."
By proactively addressing common customer queries through the FAQs section, you can save time for both customers and your business. Providing clear and informative answers helps customers make informed decisions and fosters confidence in your business. Additionally, it reduces the number of repetitive inquiries, allowing you to focus on providing personalized assistance and enhancing the overall customer experience.
Regular Updates and Posts
Posting relevant updates, offers, or news on your profile
Regularly share updates about your business, such as new product launches, upcoming events, or special promotions.
Keep customers informed and engaged by providing valuable and timely information.
Example: Sweet Delights can post updates like:
"Introducing our new seasonal menu with delightful fall flavors!"
"Join us this Saturday for a live baking demonstration at our bakery."
"Don't miss our limited-time offer: buy one pastry, get one free!"
Engaging with customers through posts and updates
Encourage customer interaction and engagement by inviting them to like, comment, and share your posts.
Respond to comments and messages promptly to foster a positive online community.
Example: Sweet Delights can include call-to-action phrases in their posts, such as:
"Tag a friend who loves desserts!"
"Tell us your favorite cake flavor in the comments below."
"Share this post to spread the sweetness!"
Regularly updating your Google Business Profile with relevant content and engaging with your audience helps to keep your business top-of-mind and encourages customer loyalty. By sharing exciting updates, offers, and news, you create a sense of anticipation and encourage customers to visit or engage with your business. Actively interacting with customers through posts and responding to their comments strengthens customer relationships and fosters a positive online reputation.
Use Insights and Analytics in your Account
Monitoring insights and analytics provided by Google My Business
Regularly review the insights and analytics section of your Google My Business account.
Gain valuable data and metrics about customer interactions, search queries, and profile performance.
Example: Sweet Delights can access insights such as:
Total views of their business profile
How customers found their business (e.g., through direct searches, discovery searches, or map searches)
Customer engagement metrics (e.g., phone calls, website visits, direction requests)
Analyzing data to make informed decisions and optimizations
Use the insights and analytics data to understand customer behavior and preferences.
Make data-driven decisions to optimize your business profile and improve your overall marketing strategy.
Example: By analyzing the insights, Sweet Delights may discover that their profile receives a significant number of views from map searches. As a result, they can focus on improving their map visibility by ensuring accurate location information and encouraging customers to leave reviews.
By following these optimization strategies and actively managing your Google Business Profile, you can enhance your online visibility, attract more customers, and drive business growth. Remember, a well-optimized profile not only helps you stand out from the competition but also provides valuable information and engagement opportunities for your target audience. Stay proactive, responsive, and committed to delivering a positive customer experience through your optimized Google Business Profile.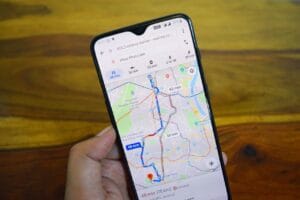 Google Business Profile
In today's crowded online marketplace, it can be challenging for new or smaller businesses to stand out from the competition. However, there is a free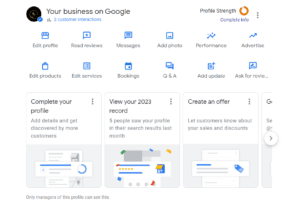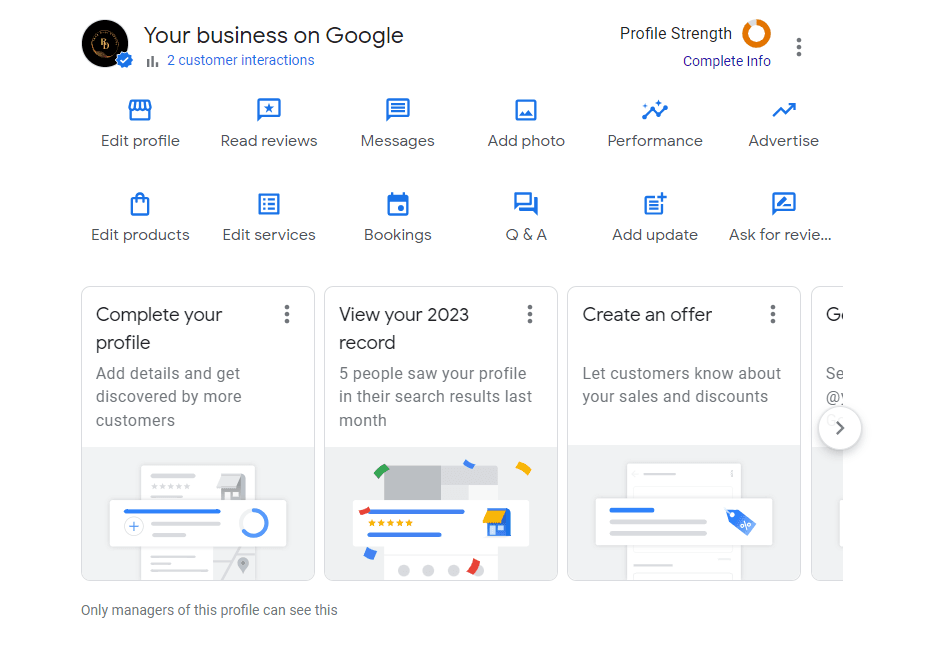 Google Business Profile
Whether you're a new user of Business Profile on Google or you've been using it for some time and want to enhance your online presence,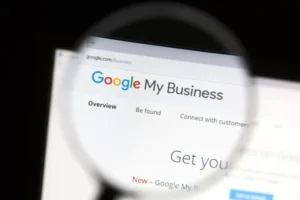 Google Business Profile
Optimizing your business profile on Google is a crucial step towards establishing a strong online presence and maximizing your visibility to potential customers. As an