There are two different ways to look at selecting the blog posts you want to write about.
1. You can target keywords that you know you can rank for.
This strategy means doing strong keyword research and finding keywords that your site can rank for based on domain authority and backlink profile.
2. Write a post that showcases your authority on a subject
This strategy involves writing a post that showcases your authority and not targeting any specific keywords to rank for
I think there is room for both of these strategies on a blog and they both should be used to some extent
If your goal is to get more traffic you should spend 90 percent of your time targeting keywords that will drive traffic.
There are a couple of strategies that I like to use for this.
Here is one of the strategies I use to find keywords I can rank for.
Use Ahrefs content explorer.
Type in the keyword you want to target
At this point, we are just trying to find competitors' websites

For example, I am going to put in "best software", now this is a very generic term and you should try to get more specific if at possible.
This is going to bring up a list of 963,813 pages that really don't provide any value yet.
There are going to be websites that have a higher ranking than ours and we will never be able to compete with them.
The next step is to filter the results
click on the + add filter button.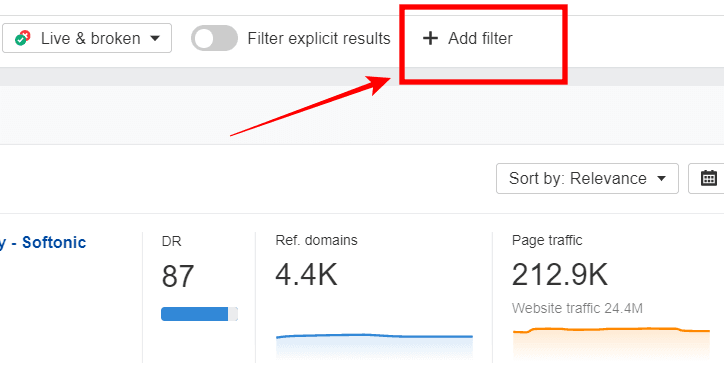 I like to add domain ratings and website traffic. I am looking for websites that have the same Domain rating as me that I can compete with
After adding a domain rating of up to 20 and website traffic of a minimum of 5,000 it came up with 7,230 pages to sort through.
This is still to go through manually so I next sort it by website traffic.
I am looking for competitors that have a lot of traffic so I can find keywords that they are ranking for.
I am looking for 5-10 good websites that are getting traffic for the visitors I am targeting.
Once I find those websites I add them to Ahrefs site explorer and look at each page that is getting the most traffic.
I am looking for pages that I can easily target with some good on-page SEO and a few backlinks. These pages should have a lot of traffic but very little competition from high-domain websites
I then use the content gap tool to compare my website to see what keywords they rank for and what I don't.
Once I get a list of keywords I will manually type them into google and see what the SERPs bring up. I do this manually for every keyword I want to rank for. I want to see who is taking over the top spots, and what the PAA questions are, and the google autosuggest gives me any more ideas.
I don't pay too much attention to the keyword difficulty that Ahrefs comes up with at this point. It does set a good baseline but there have been too many times Ahrefs will say that keyword is easy to rank for and find out that the page is dominated by high domain-ranked monsters. There are also times that Ahrefs will say that a keyword is hard to rank for and I find with a little bit of research that I can rank for with just good on-page SEO.
Every time I do keyword research I try to go down the rabbit hole and find up to 100 easy-to-rank keywords. This can take time and I have spent up to half a day just researching enough keywords for 10 articles but that does give me a week's worth of work. And I can focus on just creating content.
That is one of the best ways I have found to target keywords that I know I can rank for.
If a website has a domain ranking less than I can rank for it. I know with just a little bit of on-page and off-page SEO I can also rank for the keywords.
Write articles that provide value.
I really like these articles and personally, I find that these articles provide me with the best gold nuggets.
It is really hard to find original good advice on Google because SEO has taken over most of the niches and articles with Jasper or these other AI writing software that is written to rank with tools like Surfer and not provide massive value.
The best blogs like Sheppard Software are experienced writers just sharing tips and tricks for what they know. When you find these articles you will always come away with something you can use.
The above article is just like that. I will never rank for keyword research but I know that the strategy above will find keywords that will drive traffic to your website.
I have tested this on over 20 different websites and it works every time. I can always find keywords to rank for and drive traffic to almost any website as long as the on-page SEO is good.
Let me know what your best keyword strategies are and if you would rather write for rankings or to provide value.