Getting traffic to a website is every web owner's goal if they are trying to monetize the site and usually the more traffic the better.
Every website has certain keywords that it can rank for and finding those should be at the start of every keyword strategy.
I don't know this for a fact but it seems that Google sets limits on what keywords it will rank for a new website.
I have run several tests and I cannot rank for some keywords with a newer site no matter how much I optimize the on-page and off-page SEO.
I know that with my sites if I can find so-called low-competition keywords that have not had the search query answered I can rank for those keywords if I can answer the search query better.
Now it's also evident that your website has to be formatted correctly with on-page SEO or even with the best information you will not rank for those keywords.
The way I go about finding low competition keywords is I look for extremely long tail keywords that I niche way down to the point that you can't even find any keyword volume for them.
Now, this method takes a lot of manual work but if your website is new and you do not want to pay for traffic this will get you started.
Make a list of the keywords you can think of for your website.
Once you have your list of keywords you a thesaurus to get even more variation of each keyword.
Continue making a list until you have every variation of your keywords that you can come up with.
Next start putting those into google search and see what auto suggestions it starts to come up with.
For example, if I was targeting how to bake bread I would put that exact phrase into the google search bar.
These are all the alternative suggestions that come up when you put your cursor at the end of the search term.
I then put the cursor in between each word and see what results come up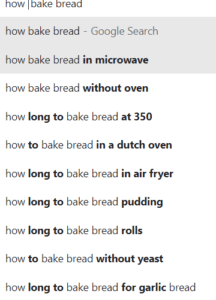 and I also remove some of the words to see what suggestions it brings up.
Do this for all the different variations of the words that you found with your thesaurus trick.
Now you should have a massive list of keywords that you need to start researching with Google. I look up each search term to see who is ranking for that keyword phrase and if I can improve on the answers that they provided.
By doing this you should find hundreds of keywords that you can rank for as a brand-new site. I think this is one of the best ways to build your domain authority.
Start off with a base of easy-to-rank keywords, this will start driving traffic and then you can go after harder terms with the traffic you are already getting. By doing it this way you will not have to build as many links and you can start seeing some nice traffic early on that is truly organic.
And if you have some money to invest in your website these long tail keywords have a very low CPC rate that you can easily target to get some nice gains.
Try this method and let me know how it works for you and what results you get.