Jasper AI Review for 2022
Artificial intelligence is a hot topic in the writing world right now. But does Jasper AI stack up against the competition? Read my jasper ai review to see if you should consider using Jasper in your day to day writing. 
Jasper is an artificial intelligence software tool that creates content automatically, and helps writers speed up their work that allows you to create high quality content for all sorts of use cases. 
I have been using Jasper for over half a year now and these opinions and examples are all first hand experiences I have had with Jasper.
This is a 100% unbiased review. I am not affiliated with jasper in any way nor are there any affiliate links on this page linking to jasper. I have done this intentionally because I want to have a unbiased opinion to the best of my ability.
I can say this. Jasper is very good. I use Jasper almost everyday in some form or another and I am really impressed compared to some of the other content writers out there.
My recommendation is.
I whole heartedly recommend it. This is the best writing tool I have used to date and once you get the hang of the prompts you can be creating really good content in no time.
Jasper AI is a natural language processing tool that helps writers improve their work. Jasper is an artificial intelligence software tool that creates content automatically. Jasper AI is also customizable, so writers can choose the level of feedback they want and get more or less help as needed. Jasper really is a good content writer that uses artificial intelligence to stand out from a crowed field to create content.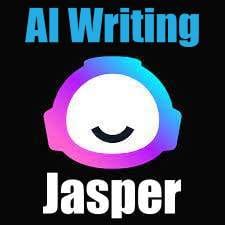 How does jasper use AI to create content?
GPT-3 is a computer system that was designed to generate text. It is based on a GPT-2 model that was trained on a large amount of text data. Jasper's GPT-3 has been shown to be very effective at generating text, and it is often used for machine translation and text summarization. GPT-3 is also being used to create chatbots and digital assistants. GPT-3 has the potential to revolutionize how we interact with computers, and it will likely have a major impact on the future of artificial intelligence.
Like other tools Jasper uses GPT-3 content. Jasper scans the internet and reads information from articles already written, it then pulls from that information when you give it to commands to write. Jasper then will then start creating content that is based on the commands that you give it. 
Can a robot write better than you?
There's no question that robots are becoming increasingly sophisticated. In many industries, they are already performing tasks that were once considered too complex or delicate for machines. So it's not surprising that some people are wondering if robots might one day be able to write better than humans.
Jasper is a robot that has been designed specifically for writing. Created by the artificial intelligence startup OpenAI, Jasper can read and comprehend text, come up with original ideas, and structures articles in a way that is both logical and compelling. What's more, Jasper can do all of this at lightning-fast speeds. In a recent test, Jasper was able to generate a complete article in just seconds, outperforming human writers by a wide margin.
Of course, there are some who argue that robots will never be able to replicate the creative power of the human mind. And it's true that, for now at least, Jasper is only capable of writing simple paragraphs. But, as artificial intelligence continues to advance, it seems likely that robots like Jasper will become increasingly capable writers, and eventually, they may even surpass human writers in terms of their ability to produce original and compelling content.
Is Jasper AI easy to use?
Jasper AI is extremely easy to use, with a simple and intuitive interface that even novice users can master in minutes. Jasper's natural language processing capabilities make it possible to interact with the system in a variety of ways, and its powerful machine learning algorithms ensure that results are always accurate and up-to-date. 
These are just some of the templates that you can use. 
This is one of the biggest questions that I had when I started using Jasper. I didn't want a program that just rewrote everything. 
What I found out
What I found out was the answer to this question is complicated. On the one hand, Jasper AI has a number of features that make it trustworthy, such as its ability to learn and remember information. On the other hand, Jasper AI can also be unpredictable, which raises concerns about its reliability. Ultimately, whether or not you trust Jasper AI depends on your specific needs and how comfortable you feel with its capabilities.
I ran each of the article through a plagiarism tools and most of them passed but there were a couple that didn't. When I checked the ones that didn't pass against that copy with Google, I couldn't find where it was copied from but the plagiarism tools still flagged it. 
Is it legal to use tools like Jasper aI
There is nothing illegal about using tools like jasper to write content. As long as you are upfront that some of your content was created using a AI tool.
Why you should be careful
Using AI writing tools goes against Google's web master rules. I don't recommend using it to write full articles but using it to come up ideas and different examples to give you some ideas should be okay. 
But…really what this technology does is the exact same thing as a copy writer. A copy writer goes out does some research on the internet for a subject, puts their own spin and opinion on it, and just rewrite's it.  
Will google penalize your website if you use Jasper AI
There is no definitive answer to this question as Google's algorithms are constantly changing and evolving. However, by using artificial intelligence on your website there can be a risk factor as it may be seen as trying to game the system.
I don't believe that you should use AI writing tools to write long form blog posts. This does go against Google's quality web guidelines.
Using it to get the creative juices flowing is okay and giving you some ideas to get started is just fine.
Jasper is the best AI-powered writing assistant out there. Jasper not only provides real-time feedback and suggestions on your writing, but also offers a boss mode feature that allows you to create content up to five time faster. This is an invaluable tool for anyone who wants to improve their writing skills.  
What makes boss mode unique
What makes Jasper boss mode unique is that it reads up 3000 words above what you have written. This allows it not to create duplicate content and stay with a theme. Jasper is continually releasing new features to improve jasper command of the written language. The boss mode allows helps writers speed up their work and allows you to create high quality content for all sorts of use-cases.
How to use Jasper AI to write blog posts with boss mode.
Here is what the boss mode plan says "If you're looking for a content writing tool that can help you produce high-quality, engaging blog posts, then you should definitely check out Jasper AI. With Jasper AI, all you need to do is input a topic and some key information and the software will take care of the rest, creating a well-written and informative blog post that is sure to capture your readers' attention. Not only does Jasper AI save you time and effort, but it also ensures that your content is top-notch and free of errors. So if you're serious about content marketing, then there's no reason not to give Jasper AI a try"… So this is what jasper says about it content creating blogging software. The one thing I find odd is that jasper does not write about itself very well. What I have found with jaspers blog post template is that it can be confusing to use to create long form content. 
Jaspers boss mode plan gives you the option to write long form articles for your blog. 
There are a lot of articles out there on how to use recipes to create the content you need but for some reason I really had trouble getting them to work right for me. Creating the outline went good but then getting jasper to write the content did not. He like to repeat himself a lot and if it was on a topic that was not very popular he really could not provide very much content on it.  
How does jasper aI create content?
Jasper use an open AI called GPT-3 to create NLP content. This means that it is a continuous learning product. The more it gets used the smarter it can get.  Jasper claims that it has read over 10% of the internet. This is mind boggling huge amount of data that jasper can pull from to produce content. 
The more content that is written about your subject the easier it is for jasper to create his own content or put his own spin on it.
What Jasper does very good is create outlines for content or briefs. Some of his briefs are scarily good and I would swear that a human editor wrote them. 
Jasper really does stand out from the crowd when it comes to creating content. He is a great content writer for paragraphs and short form blogs posts. 
As he continues to write more content you will see an improvement in the quality of it. 
Jasper art is the latest ai tool that jasper has created. 
Jasper can take a description and turn it into a piece of art. It really is amazing what this Dall*e software can do. 
Jasper can write your sales copy
Jasper is trained to create good content that converts. Jasper has specific function called persuasive bullet points. This allows you to create persuasive bullet points into landing pages emails and sales letters. 
I asked jasper to write a cold email about itself that I could send out to promote itself and here is the content he wrote. 
"Hi FIRST_NAME,
You're probably getting a lot of emails from people who are promising you the world. They'll say that they have some revolutionary software that will help you produce content 10x as fast.
But what if I told you that there was an AI software which could do just that? jasper is the AI software which can help you write better and faster content.
I am not going to promise you the moon, but I can guarantee you that jasper will save you time and energy when it comes to creating content. Want to try it out for yourself? Let me know, I would be happy to send you a demo.
Sincerely,
YOUR_NAME"
Not bad with a few tweaks I may test this to see how it converts but it really is pretty amazing what this software can do. 
Jasper Product Descriptions
Jasper allows you to create compelling product descriptions to be used on websites and in emails. 
I really like this one feature allot, you can take product description from the manufacture and ask Jasper to rewrite it. This allows you to have a unique product description for each of your products that doesn't get flagged as duplicate copy. 
Jasper SEO- blog posts- titles and meta descriptions
Jasper has the ability to create optimized blog post and meta descriptions. Now I am not sure that he can do as good of job as an SEO pro but for someone who just wants some good ideas or does not have very much experience with creating SEO optimized titles and descriptions, I think jasper can really be a big help to get you started down the right path. 
Not only can Jasper create blog posts for you and write it all out he can just do specific parts to get you started. 
He can create blog post outlines, topic ideas, and outlines. This can be helpful when you are struggling what to write. I always recommend starting this way if you have some writer block that is preventing you from coming up with ideas.
frequently asked questions
what is the future of ai copywriting?
Copywriting is a vital skill for any marketer or business owner. It's the art of crafting persuasive, attention-grabbing text that convinces readers to take a desired action. As marketing and advertising evolve, so does copywriting. Today, we're seeing the rise of a new type of copywriter: one who relies on artificial intelligence (AI) to help create compelling content.
AI copywriting is still in its infancy, but it holds a lot of promise. By harnessing the power of machine learning, AI copywriters can automatically generate personalized, targeted content at scale. This means businesses can reach more leads and convert more customers with less effort. In the future, AI copywriters will only become more sophisticated and widespread. If you're not already using AI to help with your marketing and copywriting, now is the time to start. Otherwise, you risk being left behind as your competition takes advantage of this powerful technology.
While that is only a question that only you can answer. The answer for me is Yes, Jasper is worth it.
Jasper is one of the best copywriting apps that I have used to create blog post outlines.
Jasper really helps me with writers block and coming up with good outlines.
How much Does Jasper cost?
Jasper pricing starts at $24.00 a month for 20,000 words and can go up from there. 
The Boss Mode starts at 49.00 per a month for 50,000 words or you can double the word count for $82.00 per a month.  
Yes Jasper AI is good. This is one of the best copywriting software out there and I use it every day. I have been very happy with the way it has performed and the accuracy of the tool. The wording sounds very natural and can sound like a native speaker.
Which is better Copy AI or Jasper AI?
While both are very good at writing copy Jasper is better because it offers more options to create content like, blog posts, emails, amazon descriptions, outlines and just about anything else you could think of. 
You can read my in-depth comparison here of is copy ai better than jasper ai
What is jasper AI used for?
Copywriting is a vital skill for any online marketer or business owner. It's what helps you create compelling, persuasive, and interesting content that will capture your audience's attention and keep them coming back for more. And while there are many great copywriters out there, not everyone has the time or the ability to craft great copy on their own. That's where jasper comes in.
Jasper is a new AI-powered tool that makes it easy to create great copy, fast. With jasper, all you have to do is enter a few pieces of information about what you're trying to say, and jasper will do the rest. It will analyze your input and generate high-quality, engaging copy that you can use on your website, blog, or social media accounts. 
AI stands for artificial intelligence. This is the same software that is found in your phone or any of your smart appliances like alexa or google voice.
Artificial intelligence is the process of making a computer system that can understand and learn from experience. 
AI is used for machine learning. Artificial intelligence has been used in many different fields, including medicine, finance, and manufacturing. It has the ability to improve the efficiency of these fields by reducing the need for human intervention. And, artificial intelligence has the potential to revolutionize many different industries and make tasks that are difficult for humans much easier.