Invoicing For Photographers| Tips the Pros Use to Get Paid
Your invoicing system can either make or break your photography business. Getting paid is half the battle and it can be uncomfortable asking for money. How you send invoices and how they look can have a big impact on your brand and if customers perceive you as a professional. 
Having a professional invoicing system in place will greatly increase your chances of getting paid in a timely manner. 
Billing methods for photography invoicing
If you're a service-based business, you can bill your clients using the time plus cost method. This means that you charge for the time you spend working, plus any additional costs associated with the project. 
For example, if you spend 10 hours working on a project and your hourly rate is $50, your invoicing would be $550 (10 hours x $50 per hour). 
This billing method is relatively straightforward and easy to track, which is why it's so popular among service-based businesses. However, it's important to keep in mind that clients may not be willing to pay for mistakes or wasted time, so it's important to be efficient and accurate when tracking your time.
The lump sum method is a billing method where you charge one flat rate for the completion of a project. When using the lump sum method, it's important to be clear about the scope of work covered in the quote. Otherwise, you may find yourself completing work that falls outside of the agreed upon price. 
For example, if you're quoting a price for photographing a wedding, be sure to specify whether or not that quote includes providing props, or how long you are expected to be there. 
The lump sum method can be a great way to simplify billing, but it's important to make sure that both you and your client are on the same page about what's included in the price.
the best system for invoicing
The absolute best way for invoicing you clients is to use a free software like Wave Invoicing or Zoho Invoicing. Both of these options are completely free and the only way you will ever get charged to use them, is if you choose to use their payment processing service for credit cards.
I have experience with both of these software's and can say they are both hands down way better than trying to do it yourself with Google suite or Microsoft office and keeping track of everything manually. 
1. Enter your clients information into your software-
This should include information like –
Name and Address (you want this information so you can send them correspondence if necessary)
Billing Address and Billing Name (this can be different than the customers name is someone else is paying the bill.)
Contact information – How do they preferred to be contacted, email, text or phone calls?
Address where the shoot is taking place.
Any details about the shoot that you need to know.
2. Create an estimate in the software for the cost of the shoot.
I won't go into all the detail of how to price your work but I can say from experience that charging a set price instead of hourly is the best way to go. This avoids any price surprises for your clients and they know exactly what to expect with detailed estimate.
It is always a best practice to send as detailed of estimate as you can possibly get.
1. This creates a perception of credibility for example – 
Say I will be here from this time to this time.
It will include this many pictures as a minimum and this many pictures as a maximum,
I will provide a digital copy of each picture edited within a week of the shoot. 
I will provide props and lighting 
And whatever extras you are going to do.
If you send proposals that look like this you will get the business over the agency who just says its going to be hourly or a flat fee and doesn't provide any detail on what is included. 
This also protects you if for some reason the clients wants something that you didn't anticipate like extra pictures or non-standard formatting.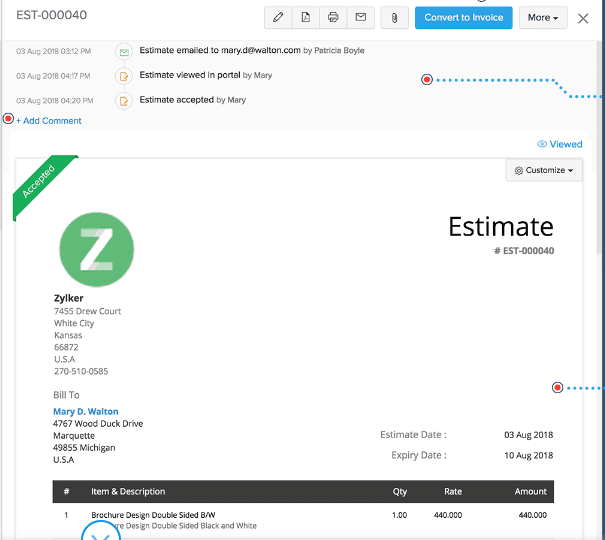 3. Send the estimate to your client for their approval.
Now a couple of different things can happen.
The client accepts the invoice and you move forward with the project.
The client needs some clarifications about the project.
The client thinks you price is too high
Now you can renegotiate with your client and see if you can work out the terms of the project. 
4. The client accepts the proposal.
Great, the client accepted the proposal your next step is to:
get a signed copy of the proposal
Get your down payment for the retainer
Complete the project to your clients expectations and provide them with the product you agreed to. 
Best practice is to get the invoice out as soon as possible. You want the client to get while they are still happy about the work you did and have not move onto other projects in their lives.
If you wait a month to send out your invoice you run the risk of the client delaying payment for another 30 days and this puts your cashflow in jeopardy. 
what should be included on a photography invoice?
Invoice number
Date of service
Date of sending invoice
Contact name of photography service
Name of client
Terms and conditions
Line detailing services provided
Cost per unit of product
Tax rate (if applicable)
Total amount owed
Due date
Personal note.
This information should be on every invoice.
The life cycle of an invoice

7. How do I accept payments as a photographer.
The best way to accept payments is to use your accounting software. Most accounting software will accept payments now and it will automatically apply it towards the clients invoice.
The other ways to accept payments are – 
 By check
By credit card through Square or PayPal
By direct bank deposit (this is dependent on they type of account you have and not all banks will allow this. 
Venmo
You should always provide a receipt when you get paid so your client has something for their records. 
8. If your invoice does not get paid it is time to send out a timely reminder.
The first reminder should be friendly just letting them know that you didn't receive the payment yet and wanted to check to see if there as any issues that needed to be resolved. 
If they still don't pay or are not responding to you it is time to send a more formal letter that has the late fees attached. I like to say at the end if they respond promptly I will waive the late fees and that will usually get them to respond. 
And if they still don't respond, it will be up to you how aggressive you want to be. I know of some companies that create a fictitious persona with an email, and that they give a name and title of account receivable and use her to put more pressure on the non-payees. This can allow you to be the "good guy" while allowing your aggressive accounts receivable lady to go after the clients that don't pay. 
The best way to avoid clients not paying is to give them multiple options to pay their bill or even to keep their credit card on hand to run when the work is done.
9. Post the payment to your accounting system and send the client a thank you note.
Where to find free invoice templates?
The best place to find free invoice templates is 
FreshBooks – have free versions that you can use 
Microsoft Office
Google Suite
Zoho invoicing
This is the best method of invoicing for photographers. Getting a free version of a invoicing and accounting software will make your life much easier. Its easy to automate sending out the invoices and following up on the ones that don't get paid. And, when tax time comes around everything will be in one place and easy to access if your accountant has any questions.