How to start a soap Making Business from home step by Step Guide
Starting a soap-making business from home can be a good way to make some extra money while creating something that you will enjoy selling and sharing with others. Selling soap is one of the easiest handmade products to sell and manufacture from home. In this guide on how to start a soap-making business from home, I will show you step by step how to get started, what products you need, marketing ideas, and all the other steps that you need to know.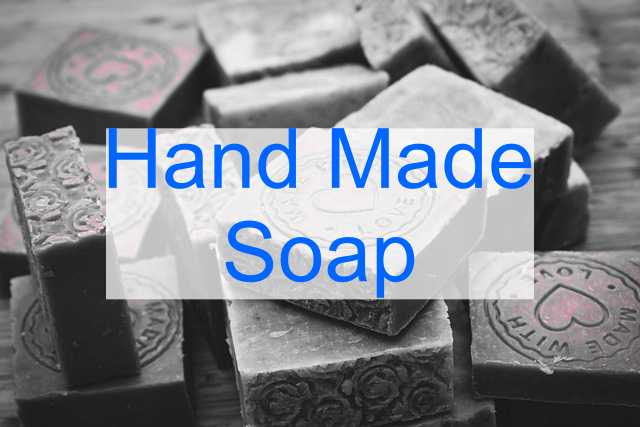 There are many things you need to consider when starting your soap-making business. Everything from sourcing the raw materials to marketing and selling your soap.
The biggest mistake that new soap makers make, according to industry insiders, is not treating their home-based soap-making like a real business. Marketing and selling are going to be your two most significant challenges to having a successful soap-making business, if you can master these two fundamentals you will be well on your way to having a successful home-based business.
Table of Contents
How to start your home-based soap-making business.
Step 1: Choose a niche for your homemade soap
Choosing a soap niche is going to be the one thing that will set you up for success or failure. If you pick a niche that you are passionate about and specialize in. there is a good chance that you will do good initially and have lots of business success.
Why you should choose a niche?
Choosing a niche will allow you to become known as a soap maker in a specific category. This makes marking easier as you get to know your ideal customer better, and you can charge more because you will be perceived as an expert in the field.
Different niches Ideas for soap makers.
Price:
Price is one area where you can fulfill a niche. You can be the most expensive or the least expensive, or somewhere in between. It is recommended that you never too far one way or the other due unless you have an established brand that you can use to use to promote your products. If you are starting it is best to try different price points to see what resonates with your customers.
Ingredients. 
The ingredients that you use can set you apart from your competition. Do you have all-natural ingredients that will help not dry out the skin, are your products made from goat's milk or some other sustainable resource?
Process.
Is your process unique that ends up with a better-than-average product, this can be a great niche idea if you can sell it and market it successfully?
Step 2: Create a Minimum Viable Product (MVP)
Before you get too far in your soap-making business, you need to determine if your business makes sense and if you can find customers for it. You should create a couple of different types of soap products and see which one sells and what feedback you get from your customers.
Step 3: Test Your Idea or MVP
Once you have found your niche and come up with a soap prototype, it's time to start testing if you can sell it in the real world. If you cannot sell it or your quality is not good enough, You need to keep improving it or come up with a better idea of what to sell. This will allow you to test your product's ideas without investing a lot of money.
4. Create a business plan for your soap-making business
A business plan for your home-based soap-making business is an important tool for any entrepreneur or a small business owner. It helps you to define your business goals, and map out a path to achieving them. It also forces you to look at your competition, and your target market to determine your marketing strategy.
A well-crafted business plan can also help secure funding from investors or lenders.
A business plan is essential for anyone who wants to start a business. Without one, it will be challenging to make your business successful.
Here is what the SBA says: 
Here is what a good business plan should include –
Executive summary – This is a brief overview of the whole plan; while not critically crucial for planning, it is if you request funding from a bank or private equity.
Company description – A good company description should include who you are, and your overall purpose for being in business
Your business goals – What business goals are you trying to achieve, and how are you going to get there?
Organization and management – Who are the leaders in your company? You should list everyone who has a crucial role and what qualifications they bring to the table.
A description of your product and services – What are you actually going to be selling?
Market research – Who are your main competitors, what is the market size potential, and how do you plan on getting into the market?
Outline of your marketing and sales plans – What marketing mediums are you going to use? Traditional advertising, online advertising, a sales team, or word of mouth.
Financial projection analysis – What are your numbers going to look like in the first year? What return are you expecting if everything goes according to plan?
Appendix –
The purpose of a business plan is to give you a roadmap to follow and provides a document with to present if you are requesting financing.
Step 5: Create a business website
Creating a website for your soap business is a compelling strategy to help gain more exposure and attract customers. It can be used to showcase your different types of soap and provide additional information to potential customers, access valuable feedback from current customers, and establish trust with potential new clients.
Having a website encourages people to visit your business and look further into what you have to offer. Additionally, if someone doesn't know it exists or where it is located, you won't be accessed by them. Creating an online presence for your business also allows for 24/7 accessibility; website visitors can find out about your business at any time of the day or night.
Creating a business website is easy if you want to do it yourself. You can have your soap business website up and running in less than a day by using some templates and following a YouTube tutorial.
The other option is go to Fiverr and pay someone less than 100 dollars to create a website for you. You can have simple 5-page website up and running very quickly
The pages you need to have on your home-based soap business website are:
Home page:
A website's homepage is often the first impression made by a visitor, so it should be informative, well-designed, and easy to navigate. For businesses, this is especially important as it may determine whether or not the person clicking around decides to make a purchase.
When deciding what to include on your website's homepage, it is best to highlight key elements of your business, such as selling points or unique information about you as well as make sure contact information and other important information are easily accessible.
It can also be helpful to showcase customer testimonials or reviews so that potential customers have an idea of the positive experiences others have had with your services. The website's home page should provide visitors with all the pertinent information they need to learn more about your product/service while encouraging them to stay awhile and explore!
About you page:
A good About page is essential for any website. It is an opportunity to introduce yourself and your business to the world and to your potential customers. This is where you talk about your experience and why you are qualified to make soap.
Crafting a creative, compelling, and professional about page will help promote yourself, your skills, and your experiences and create a trusting relationship between you and visitors of your site. The about page should also include links or a contact form so that visitors can reach out to you with any questions. With a solid about page as part of your website, you'll be in great shape to make lasting connections!
Product Page:
This is going to be the most essential part of your website. You need to let your copywriting skills shine through here and create some compelling product descriptions that will entice customers to buy your products.
You should have custom images of all the different variations of your products and what makes them unique. You want to create a detailed description of the process and the ingredients in each one and what product is the best one for each situation.
Contact us Page:
Make sure clients can get hold of you from your website. You should have multiple ways like
Email
telephone
A form they can fill out
Facebook page
Mailing address
All this will add credibility to your business and show your potential customers that you are serious about providing them with the best service that they could receive.
Step 6: Start marketing your soap-making business
Marketing your business can be a challenging and exciting experience. With the right approach, however, you can ensure that you are effectively promoting your business and reaching out to potential customers.
Implementing new strategies to market your business can help bring more attention to it and increase conversions over time.
Your very first marketing strategy should be word-of-mouth marketing. Word-of-mouth advertising is one of the most potent forms of promotion a business can receive. Studies have shown that word-of-mouth advertising significantly increases trust and credibility and prompts customers to act upon purchasing a product or service.
That's why businesses that provide excellent levels of service and quality customer experience will be rewarded with powerful organic growth generated from satisfied, loyal customers spreading the word.
A marketer's job in emphasizing their current network of customer advocates boils down to making it easier for them to share positive experiences about their business.
Step 1. Tell Everyone you know about your new business:
You should start by telling everyone you know about your new business and what you are doing. This is where handing out free samples can be a great way to promote your business. When you give someone something for free, they are more likely to promote your products and buy more for themselves.
Step 2. Create a listing on Etsy
Etsy is the number one place where soap makes sell their products. While this may not be your most significant marketing medium, it is a great way to showcase some products and adds credibility to your business.
Step 3. Start a blog on your website and social media page:
Starting a blog on your website and social media page where you can share some tips and tricks for making soap or the differences in the quality of soap. If you talk about issues that are important to potential soap buyers and show them how to save some money, you are going to be perceived as an expert, and your will gain more business.
Step 4. Invest in some paid ads:
Paid advertising is still one of the best ways to get some business. There are multiple places to use paid advertising but the most effective right now are Google ads and Facebook ads.
Both of these advertising programs will give you some customers but it takes some trial and error to get it right.
Facebook advertising for home-based soap making businesses:
Facebook advertising is quickly becoming one of the most popular methods of targeted marketing, due to its extremely wide-reaching potential. Though it may seem daunting at first, utilizing this powerful tool can be surprisingly simple with a few basic steps.
Start by deciding who your ideal customer is and who you are targeting.  Then, craft an eye-catching ad that draws their attention to your home-based tax prep business in a unique way. Next, select any available options such as image or video ads, sponsored stories and page post ads, depending on the nature of what you're promoting. Finally, decide how much you'd like to outlay for each separate ad campaign and choose whether or not you'd like them to show on a daily or lifetime budget basis.
Facebook advertising is an invaluable source for connecting businesses with potential customers in today's digital world.
Google AdWords
Setting up a Google AdWords campaign can be daunting but, with the right guidance, it's well within reach. Start by logging into your Google Ads account, then work your way through each step: from targeting and budgeting to setting up your campaign structure and ad. Make sure you select the relevant keywords for success and review any potential negatives. Once you have written your ad copy and set landing pages for each ad group, it's time to launch your campaigns. Finally, remember to monitor and adjust your campaigns frequently as necessary – Google AdWords allows you to make changes quickly in order to continue optimizing towards better results!
Step 8: Purchase liability business insurance specifically for a soap making business.
Obtaining the right business insurance is essential for a home-bases soap making business. Every business has its own particular set of risks, and it's important to ensure that your business is insured for those risks. You need to be able to trust that you have the most comprehensive coverage and to do so in an affordable manner.
Working with professional brokers can help you research potential policies, evaluate coverages offered by different policies, compare rates across providers, understand tax incentives related to specific coverages, and make sure that your handmade soap making business is protected.
Every state has different requirements when it comes to insurance and bonds. You will need to check locally with your state to determine what is correct coverage and policy for you.
It is also important to get business insurance specifically for a home based soap making business. There are specific things that must be taken into account that you need to be protected against like damage to property, potential injury liability and many other issues that a good insurance policy will protect against.
Step 9: Open a Business Bank Account
A business bank account is a valuable asset for any business owner. Not only does it make record keeping and separating personal and business expenses easier, it adds credibility to your business.
Customers feel better about working with you when they know that you have a legitimate business account rather than simply operating out of a personal checking or savings account. Furthermore, opening a business bank account can help you get better terms from lenders, since it shows that you understand the importance of managing finances responsibly and want to do so in the best way possible.
Having a dedicated business bank account will also ensure there are never any surprises or accidental withdrawals from your own funds.
Step 10. Continually pivot to take advantage of new information and technology.
The best companies are continually pivoting to take advantage of new information and technology. As you start your business you will find out things that you didn't even consider the first time around and these insights will allow you to take advantage of new opportunities and pivot to avoid potentially bad ones.
How much does starting a soap making business from home cost?
The cost of starting a soap making business is going to depend on your niche and what types of products you are creating. When trying to decide how much money you need to get started you have to look at a couple of different things. What ingredients are going into your soap, how much does it cost to make your soap, and how are you going to market your business? On average according to Modern Soap Making this is the costs of one of her bars of soap. 
Credit: Modern Soap Making
As you can see there is a lot of small expenses that go into each bar or soap. I recommend you read the full article to get a sense of how to price a bar of soap and what you can expect your profit margins to be.
The average cost of starting soap making business from home can range anywhere from $500.00 dollars to over $10,000.00 dollars. A lot of it will have to do with how much inventory and supplies you need to buy up front. If you are starting from scratch with no equipment, your startup costs are going to be higher.
Is a soap making business profitable?
A soap making business can be very profitable if it is run like a real business. You need to know your exact costs for every bar of soap and make sure you never sell a bar of soap for less than your true costs. If you can do this consistently you will have a profitable soap making business.
can You make money selling homemade soap
Selling homemade soap is a great way to make money. The costs to produce a bar of soap is not that high and on average you can sell a bar of soap for double or triple what it cost to produce.
What material do you need start a soap making business?
Before you can start making soap at home you need to some specific equipment.
1. Scale
All soap ingredients should be measured by weight and not volume. This will lead to a more precise product that will be consistent every time.
2. Thermometer
A good thermometer is a necessity with for good soap making. Having a thermometer to test the temps of oils and lye solutions can be the difference between a batch of soap that turns out right or is ruined.
3. Immersion Blender

A good immersion blender will save you time and give you a more consistent product. While you could mix by hand this will lead to uneven mixing and will not allow you to as efficient.
4. Mixing containers
A quality set of mixing containers is a must for soap making.
5. Measuring equipment
6. Soap Molds
7. Strainers
8. Soap cutter
9. Decorative Soap Stamps
10. Safety equipment like gloves goggles and masks.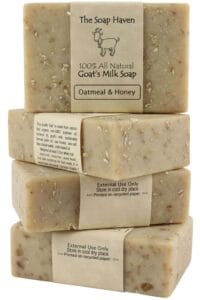 How to start a soap making business with no money
You do not need a large investment to start a soap making business. Here is the easiest way to start a soap making business with no money.
Step 1. Research handmade bars of soap that are selling well on Etsy, ebay, or amazon.
Once you have found a bar of soap that is selling well and you have some ideas of what bars of soap to make.
Step 2. Source the indgredients.
Since you are not going to start off with a large batch or soap you only need ingredients for up to 10 bars of soap. Your goal should be to find these ingredients on sale.
step 3. Make some miniature bars of soap for samples.
Make up to 10 miniature bars of soap that you can sell, this will allow you to get some feedback and share some samples with your potential customers.
Step 4. Start handing out your bars of soap and try to get some preorders for a full batch.
If you can get some money down for your bars of soap you can use that money to finance the rest of your business and start you home-based soap making business.
Other funding alternatives to start a soap business.
1. Ask friends and family for a small loan.
2. Use credit cards to buy ingredients
3. Refinance your house.
4. get a loan from the bank