How to Start a Million Dollar Printing Business From Home
Starting a print business from home can be a great business idea. There are still plenty of local business and social functions that rely on printed brochures and hand outs. In this guide to how to start printing business from home I will show you how to do market research and find the printing niche that will put your business over the million dollars a year. 
Some will say that it is not possible to make money with printing now days,  but there are a lot of success stories of individuals niching down and becoming the go to business for their specialty. With the internet you can reach audiences all over the world and with drop shipping you can service almost anyone. 
Starting your home based business can be one of the best ways to start your own business. A lot of very successful business that are now household names got started as a home-based business. Like, Dell computers, Facebook, Apple computers and most software companies got a start at a home of the founder. 
the 10 steps to starting your printing business from home
Find a niche within the industry
Come up with a name for your business
Determine if you will purchase or rent your equipment
Create a MVP (minimum viable product) of your product
Find your first customers
Create business plan
Determine your business structure
Register your home based business
Create separate financial accounts for your business
Obtain business insurance
How to start home based printing business
Starting a printing business from home can be a great way to control your own work/life balance and earn a good income. But it's not always easy to get started, and there are a few things you should keep in mind if you're thinking of starting your own home-based business.
First, make sure you have the time and commitment to devote to your business. A home-based printing business is a big responsibility, and you'll need to be able to dedicate the necessary time and effort to make it successful.
Second, choose a printing business niche that you're passionate about. Not only will this make the process of starting up more enjoyable, but you're more likely to stick with it in the long run if you're doing something you love.
Third, do your research. There's a lot to think about when starting a business, from financing and marketing to legalities and insurance. Make sure you know what you're getting into before taking the plunge.
Fourth, put together a solid business plan. This will help you map out your goals and how you plan on achieving them. Knowing what you want to achieve and how you're going to get there is essential for any successful business venture.
Finally, don't be afraid to ask for help on how to start a home based business. Whether it's hiring an accountant or taking a small business course, there's no shame in seeking out professional help when starting your own home-based printing business. Getting expert advice can make all the difference in ensuring your new business gets off on the right foot.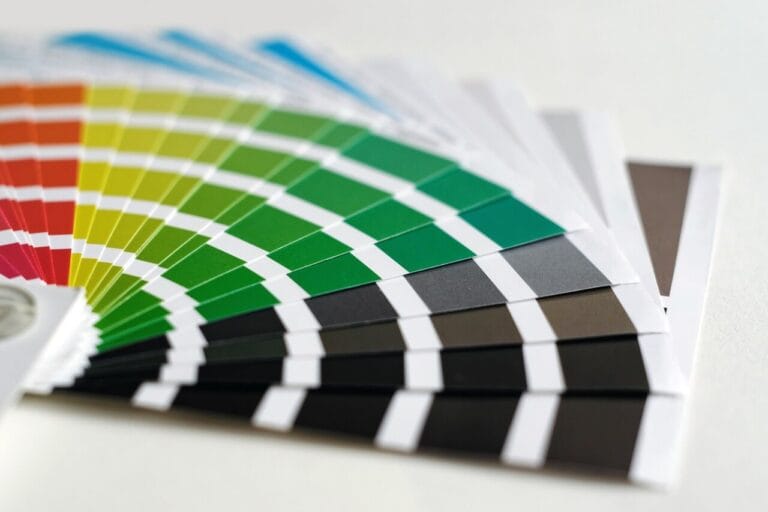 The 10 Steps on how to start your printing business from home
1. Come up with name for your business
Naming a business is both an art and a science. While there are many factors to consider, the most important thing is to choose a name that accurately reflects the mission and values of your company. 
How to pick a business name – 
For example, if you are starting a menu printing business, you might want to choose a name that evokes the feeling of freshness and wholesomeness. On the other hand, if you are starting a real estate brochure company, you might want to choose a name that sounds innovative and modern. 
Ultimately, the goal is to choose a name that will attract attention and give potential customers a positive impression of your printing business.
You want to make sure that the name you use and start marketing is not taken and you can find a domain name that will work for a website. Ideally the domain name will end with .com because that has the highest trust factor at the moment. 
With careful consideration, you can find a name that perfectly encapsulates the essence of your company.
If you are still struggling with a business name you can always use a business name generator like shopify's free tool
2. Determine if you will rent or buy your printing equipment
Leasing or buying your equipment will largely depend on what you are producing. One of the best business models in my opinion is to outsource the actual printing to someone else. You get paid to come up with the idea and design and you outsource the actual printing to a specialty shop that has all the equipment. 
3. Create a MVP (minimum viable product) of your product or service
The purpose of this is to determine if your printing product or service has potential and if you can find customers for it. 
Before launching a new product, it is essential to conduct extensive market research. This will help to determine whether there is a demand for the product and what features consumers are looking for. Once this has been established, the next step is to create a minimum viable product (MVP). 
This is a version of the product that has just enough features to be marketable, allowing businesses to gather feedback from consumers and make necessary improvements. The MVP should not be too complex or expensive to produce, as this could delay or prevent it from ever reaching the market. With careful planning and execution, an MVP can help businesses to assess the potential of a new product and make any necessary adjustments before making a larger investment.
Too many businesses get caught up in a lot of the other details of starting a home-based business without ever determining if anyone is going to purchase their product or service. 
4. Find your first customers
Finding your first customers can be hardest part of getting started but the most important. You need to get feedback on your product or service to fine tune it and get it ready for mass production. Without a customer you do not have a business so finding your first customers is a necessity and should be done before almost anything else. 
How to find your first customers
1. Start by telling everyone you know and meet about your new printing business. You should have a clear idea of who your ideal customer is and a 20 second elevator pitch that can clearly explain what you do and why they should work with you. 
2. Work on getting some referral sources. A referral source is someone who your ideal customer respects and interacts with would take advice from. This can be accountants or financial advisors if you are working with businesses. 
3. Start posting regularly on Facebook. You should have a portfolio of designs that your can showcase and you should be posting regularly of any work that you are doing.
4. Post your best designs on Pinterest
5. Volunteer your time or design to a charitable organization
5. Create a business plan
A business plan is an important tool for any entrepreneur or small business owner. It helps you to define your business goals, and map out a path to achieving them. It also forces you to look at your competition, and your target market to determine your marketing strategy. 
A well-crafted business plan can also help you to secure funding from investors or lenders. 
In short, a business plan is essential for anyone who wants to start a business. Without one, it will be difficult to make your business successful.
Here is what the SBA says: 
Here is what a good business plan should include –
Executive summary – The executive summary sits at the head of your catering business plan. It gives a quick overview of important information about your catering company like a brief company description, market analysis and pertinent financial information. It should include your mission statement, catering services that you provide and basic information about your leadership team and employees.

Company description – A company description provides an detailed overview of you business. It should explain what you do and what makes it unique.  

Your business goals – What are you hoping to achieve in an ideal world

Organization and management – 

Explain you your company is structured and who the main management is.
A description of your product and services 
Market research – You want to show that you have a good understanding of your market. Where is you industry going and how is your printing business going to take advantage of it. 
Outline of your marketing and sales plans – how are you going to get customers on a consistent basis
Financial projection analysis – How much money do you expect to make this year. What is your profit and loss going to look like at the years end. 
Appendix
The purpose of a business plan is to give you a roadmap to follow and gives a document to present if you are requesting financing. 
6. Determine your printing business structure
When starting a business, one of the decisions you will need to make is what type of business entity to establish. There are several different types of business structures, each with its own advantages and disadvantages. 
The most common types of business entities are sole proprietorships, partnerships, limited liability companies (LLCs), and corporations. Which type of entity is right for your business will depend on a number of factors, including the size and scope of your business, your personal financial situation, and your current tax obligations. 
Sole proprietorships are the most common type of business entity in the United States. They are relatively easy and inexpensive to set up and maintain, and they offer complete control to the owner. However, sole proprietorships also have some drawbacks. One downside is that the owner is personally liable for all debts and obligations of the business. This means that if the business fails, the owner's personal assets could be at risk. In addition, sole proprietorships can be more difficult to raise capital for than other types of businesses.
Partnerships or a S Corp are similar to sole proprietorships in that they are relatively easy to set up and offer complete control to the owners. In a partnership, two or more people share ownership of the business. This can provide some important benefits, such as pooled resources and knowledge, but it also comes with some risks. 
Partners could have disagreements about the direction of the business, which could lead to tension or even dissolution of the partnership. In addition, partners are jointly liable for all debts and obligations of the partnership. This means that if one partner mismanages funds or makes poor decisions, the other partners could be held responsible.
Limited liability companies (LLCs) combine features of both sole proprietorships and partnerships. Unlike sole proprietorships, a limited liability company offer personal liability protection to their owners; and like partnerships, LLCs allow for multiple owners. LLCs also have some tax advantages over other types of businesses. For example, income from an LLC can be "passed through" to its owners, which means that it is taxed at the owner's individual tax rate rather than at corporate tax rates.
LLCs can also choose how they want to be taxed; For example, some LLCs elect to be taxed as S corporations while others elect to be taxed as C corporations. The right tax status for your LLC will depend on a number factors including the size and structure of your company and your personal tax situation. 
Corporations are separate legal entities from their owners ( shareholders). This means that shareholders are not personally liable for debts or obligations of the corporation. One of the downside to this type structure is that it can be more expensive and complex to set up than other types of businesses.
When deciding on a business structure you should always consult with an accountant or attorney so you can explain your situation. They than can tell you the best way to structure your business. 
7. Register your home-bases printing Business
Every business should be registered if you are going to be generating income from it. There are generally 3 different government levels you need to register with
This is what the SBA admin says:
Federal

You need to register at the federal level if you are creating a corporation 
Register for a EIN number for employees

State

State tax id
If you need to register sales tax within the state
If you are register as any type of corporation

Local

Need a permit or license from your city or county 
Local sales tax
Most local ordinances have a law requiring your to register your business if you going to be generating specific amount of income.
8. Create separate Financial accounts for your business
When you start a home-based business, it's important to create separate financial accounts. This will help you keep track of your business expenses and income, as well as ensure that you are paying the appropriate taxes. 
Business Bank Account
As soon as you start accepting money for your services you should open a business banking account. 
Common business account include a checking account, savings account and a merchant services account which allows you to accept credit and debit cards. 
Some of the benefits of having a business banking account are
Personal liability protection by keeping your personal funds separate from your business funds
Creates a perception of professionalism. Your customers and clients are able to write check directly our to your business instead of you personally
When selecting a business bank account, be sure to compare fees and services to find one that best suits your needs. Once you have opened your account, be sure to deposit all of your business income into this account and pay all of your business expenses from this account. 
Business Credit Card
You should have a separate credit card for you business. A business credit card can be a valuable tool for any small business owner. Not only does it provide a way to track expenses, but it can also help build business credit. This can be important when it comes time to apply for loans or other financing. In addition, many business credit cards offer rewards such as cash back or travel points. This can be a great way to save money on business expenses.
9. Obtain Business Insurance
If you're running a home-based business, you might not think you need business insurance. After all, your home insurance policy should cover any damage to your home or personal belongings, right? Wrong. Home insurance policies typically exclude coverage for business-related activities. That's why it's important to have a separate business insurance policy in place to protect your home-based business.
Business insurance can help cover the cost of property damage, liability claims, and lost income if your business is forced to close due to an accident or natural disaster. It can also provide peace of mind knowing that you and your business are protected in the event of an unexpected setback. 
10. Start setting up your business software stack
Every business needs software to run in this day and age. The right software will make you more money and if optimized correctly will help you run your business better. 
When it comes to software, there are a few basics that every home based business needs in order to function effectively. First and foremost, you'll need a word processing program like Microsoft Word or Google Docs in order to create documents such as proposals, invoices, and marketing materials. 
You'll also need some form of accounting software in order to keep track of your income and expenses. FreshBooks is a popular option for small businesses, but there are many others to choose from as well. 
Some software that home based business needs are: 
Accounting software
Invoicing software
Inventory software
phone software
Meeting software
payroll software
With these software programs in place, you'll be well on your way to running a successful home based business.
What are the benefits of starting a home based Printing business?
For many people, the appeal of a home-based business is the ability to be their own boss and set their own hours. However, there are also a number of other potential benefits, including lower overhead costs, greater flexibility, and increased convenience. In addition, working from home can provide a much-needed sense of structure and routine for stay-at-home parents or retirees. 
There are also tax advantages of a home based business. Home-based businesses have many tax advantages over traditional businesses. For one, you can deduct a portion of your mortgage or rent as business expenses. 
You can also sometimes also deduct the cost of utilities, such as electricity and internet service. In addition, you can take advantage of the home office deduction, which allows you to deduct a portion of your home expenses, such as repairs and maintenance. Finally, you can often avoid paying self-employment tax on your business income. 
You should always talk to a certified public accountant before you employ any of these tax saving to be sure you are filing the right paperwork and safe from any audits. 
Frequently asked questions about how to start a printing business from home
Is a printing business profitable?
Yes, a printing business can be very profitable. If you have a steady stream of work and your margins are right you can make a lot of money each year. 
The industry is positioned for long term growth, in 2022 there were approximately 25,000 companies specializing in commercial printing generating almost a trillion dollars in revenue. 
How do I start a printing business?
Find a niche within the industry that you want to specialize in
Come up with a name for your business
Find equipment for your printing business
Create a minimum viable product
Find your first customers
Create a business plan
determine your business structure
register your home business
create separate financial accounts for your business
obtain business insurance 
What business do a lot of printing?
The businesses that do a lot of printing according to printing impressions are 
Packaged foods – $19.9 billion
Medical and Pharmaceutical – $18.8 billion
Publishing – $12.4 billion – books, magazines
Health providers – $11.7 billion 
Travel and Hospitality – $11.1 billion
Real Estate – $10.9 billion
Beverages – $10.7 billion
Banking/Insurance – $10.5 Billion
Telecommunications – $10.2 Billion
Food Service – $9 Billion
What business can you start with a printer?
The best ideas to start with a printer are
t-shirt printing 
Mug Printing
visiting cards
greeting cards
Signs and banners
flyers
screen printing
photo printing
Business cards
brochures 
How much profit does a print shop make?
Studies have consistently shown that the average printers net margins are between 1% and 3% net profit. 
If you specialize in a niche your margins can go up to 8% and 15% net profit. 
What equipment do I need to start a printing business?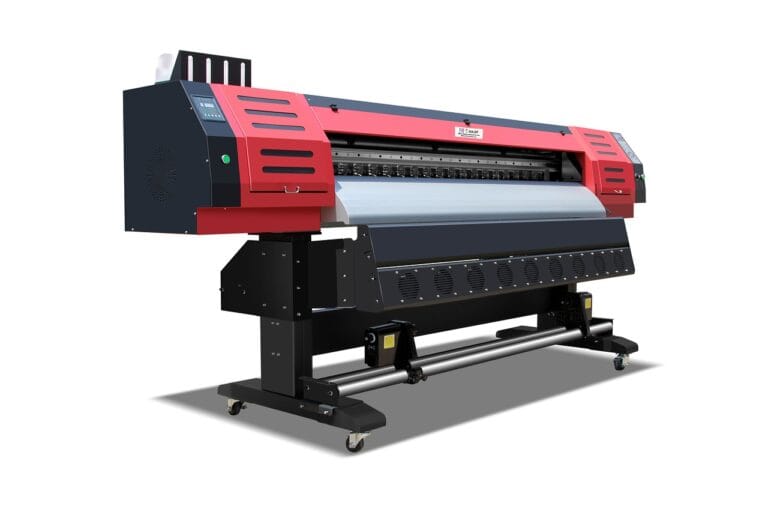 The equipment you will need for printing will be based on what you are printing but a general list is
Printer
Computer and design software
Inventory and printing Stock
Cutting equipment for vinyl
Accounting Software program
 
How much does it cost to start a printing business?
The average to start a print shop is reported to be between $146,000 and $400,000. This is highly dependent on what you are printing but your biggest costs are going to be your location and your equipment.
If you start out of your home and either outsource or rent your equipment you can get started for as little as a thousand dollars.