How to start a daycare at home ultimate 7 step Guide
Starting a daycare from your home can be a great way to work from home, take care of your own children, and earn more money doing the work you love. But, there are some risks involved and in this guide of how to start a daycare at home, I will lay out the 7 steps to a successful, home-based daycare.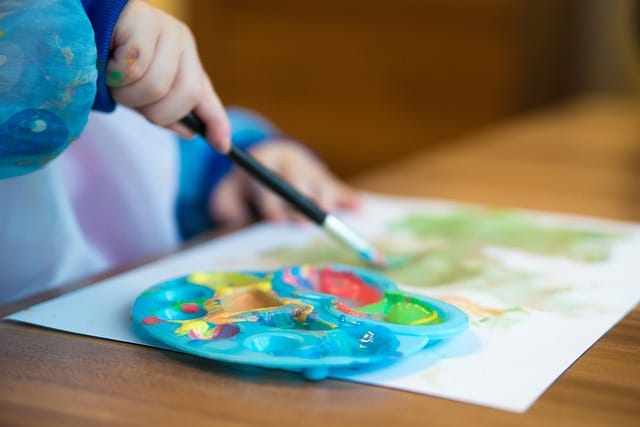 If you start a home daycare you can have a rewarding and challenging experience. On one hand, you'll have the satisfaction of knowing that you're helping to care for children and provide them with a safe and nurturing environment. 
You will also need to be organized and dedicated in order to make your daycare a success. Here are some things to keep in mind if you're wondering how start a daycare from home.
1. You will need to create a safe and welcoming space for the home daycare. This means childproofing your home and creating a designated play area that is well-stocked with toys and games. You'll also need to develop a schedule and routine that works for both you and the children in your care.
2. You want to be prepared to answer questions from parents about your family child care experience. They'll want to know about your qualifications, your experience, and your policies on things like discipline and nutrition. Be honest and transparent with parents, and be sure to keep them updated on any changes or concerns about your family child care.
3. You are going to have to be diligent about following state and local regulations for home daycare. These regulations will cover everything from health and safety standards to employee background checks. By staying up-to-date on the latest home daycare regulations, you can help ensure that your daycare is operating legally and providing the best possible care for the children in your home daycare.
Starting a home daycare from home can be a lot of work, but it can also be a very rewarding experience. If you're dedicated to providing quality care for children, then starting a daycare from home may be the right choice for you.
How to start a daycare at home in 7 easy steps
Starting a home daycare doesn't have to be hard, in this guide I will show you seven things that every daycare must do to be successful. 
Create your business plan
Get child care licensing and certified
Obtain business liability insurance
Register your business 
Set up your home
Create a website and social media profile
Find Families
1. Create a business plan for your home daycare
A business plan is an important tool for any home daycare provider or small business owner. It helps you to define your business goals, and map out a path to achieving them. It also forces you to look at your competition, and your target market to determine your marketing strategy. 
A well-crafted business plan for your home daycare can also help you to secure funding from investors or lenders. 
In short, a business plan is essential for anyone who wants to start a home daycare business. Without one, it will be difficult to make your business successful.
Here is what the SBA says: 
Here is what a business plan for a home daycare should include –
Company description 

Your business goals

Market research
Outline of your marketing and sales plans
Financial projection analysis
The purpose of a business plan is to give you a roadmap to follow and gives a document to present if you are requesting financing. 
A company description is a brief overview of who you are, what your business is going to be and what makes you r business unique.
Your business goals should lay out what your child care business is going to look like in six months, 1 year, and 5 years. This will give you a roadmap to follow and a good idea on how to get there. 
It also forces you to plan for the future. You don't want to do something today that is shortsighted and hurts your child care company farther down the road. 
Market research is simply what is the business opportunity in your area. How many daycares are there currently and how many children need childcare. 
You also need to find out what other daycares are charging so you can be competitive with your pricing. You also want to know their strengths and weaknesses. How are you going to differentiate your daycare from the competition. 
You just want to be sure there is no hidden surprises about starting a daycare in your community. You may find that everyone works in another town and all the daycares are located there, or you may find that there no daycare eligible children in your area and you won't have a large enough enrollment. 
4. Sales and marketing plans
Your sales and marketing plan is going to lay out how you are going to market your at home daycare business. What marketing channels are you going to use and how big of investment is it going to take to get your first daycare child?
This is simply going to list out what your business is going to look like if everything goes perfect. How much money are you going to make each week and what are your expenses going to be.
Ideally you have a break even analysis that would tell how many daycare children you need to break even. For some daycares it may be as little as one infant or it may be as many as 3 toddlers. 
Only you can determine this and it is going to be based on your fixed monthly expenses like insurance, mortgage on you property, and licensing requirements. 
2. Get child care licensing and certified for your city and state
 Before you can open your doors for business, you need to obtain a family child care license from your city and state. The process of obtaining a license can vary from state to state, but there are some general requirements that all states have in common. For example, most states require home daycare providers to have a certain amount of training in early childhood development and first aid. In addition, home child care facilities must meet strict safety standards in order to protect the children in their care. 
Once you have met all of the necessary requirements, you will be able to apply for a license from your state's licensing board. After your application has been approved, you will be able to officially open your family child care and begin caring for children.
A good resource is going to be your city or states department of children and family services also known as DCFS. They will be able to provide you with all the local and state mandated training and licensing requirement needed to open a daycare. 
Early Childhood Education Classes
Many daycare providers choose to take early childhood education classes in order to improve the quality of care they provide for their young charges. These classes can cover a variety of topics, from child development and learning styles to effective classroom management techniques. By becoming more knowledgeable about child development and early education, daycare providers can create a more stimulating and enriching environment for the children in their care. Additionally, taking early childhood education classes can also help daycare providers to better understand the needs of each individual child, and how to best meet those needs. As a result, taking early childhood education classes can be a very beneficial investment for both daycare providers and the children they care for.

3. Obtain business liability insurance
Child care facilities are vital to many families, providing a safe and nurturing environment for children while their parents are at work. But, running a home daycare can be a risky business, as accidents can happen at any time. That's why it's important to have the right insurance in place. 
Business insurance for daycare centers can help to protect against a range of risks, including liability for injury or property damage, loss of income due to closure, and more. 
In addition, insurance can provide peace of mind for both parents and providers, knowing that everyone is covered in the event of an accident. 
When choosing an insurance policy, be sure to work with a reputable company that specializes in child care facilities. This will ensure that you have the coverage you need to protect your business.
4. Register your child care business
When you first open a home daycare business, you may be feeling overwhelmed with all of the things you need to do. Registering your business with the state may seem like one more thing on your to-do list, but it is an important step in making sure your business is legal. By registering your business, you are ensuring that you have met all of the necessary requirements for running a daycare. This includes having the proper licenses and permits, as well as being up to date on your vaccinations. In addition, registering your business will help to protect you from liability if something were to happen at your daycare. parents would be able to hold you responsible if their child was injured while in your care. 
 1. Business structure
Every business needs to decide how they are going to be classified. By default you are a sole proprietor but this is not always best. A sole proprietorship does not protect your personal assets if anything goes wrong and it can be harder to get financing to expand your daycare if you want to. 
One of the best ways to protect yourself and your business is to form a limited liability company (LLC). An LLC provides personal financial protection in the event that your business is sued. In addition, an LLC can help you to establish your business as a separate legal entity. This can make it easier to obtain financing and enter into contracts with suppliers. forming an LLC can also give you the flexibility to choose how your business will be taxed. Overall, an LLC can provide many advantages for a daycare owner. 
 2. Obtain a EIN from the Federal government 
Getting a EIN number for your daycare is a pretty simple process. The first step is to go to the Internal Revenue Service website and fill out an online application. Once you have submitted your application, you will receive a confirmation email with your EIN number. You will need to provide this number to your bank in order to open a business account. Additionally, you will need to use it when filing your taxes. Overall, getting a EIN number for your daycare is a fairly straightforward process. Just make sure to keep it in a safe place so that you can easily find it when you need it.
Safety
When you welcome a daycare into your home, safety becomes paramount. You want to create a space that is safe for both the children and the adults who are supervising them. Here are some tips to help you create a safe environment for your daycare:
1. Conduct a thorough inspection of your home. Look for any potential hazards, such as loose railings or exposed electrical outlets. If you find any potential dangers, take steps to fix them immediately.
2. Create a designated play area for the children. This should be a safe, enclosed space where the children can play without harming themselves. Be sure to remove any hazards from this area, such as small toys that could be swallowed.
3. Establish clear rules and expectations for the children. Make sure they understand what they are and are not allowed to do. Clearly communicate the consequences for breaking the rules. And most importantly, make sure the children know who they can go to if they need help.
Here are the supplies you will need to start a daycare in your home
1. Children's Furniture
When outfitting a daycare, there are a few essential pieces of furniture you will need. Cots or mats are a must for naptime, and you will also need chairs and tables for mealtimes and art projects. It is important to have plenty of storage for toys and games, as well as a designated space for quiet activities. A rug can help to create a cozy reading corner, and some bean bag chairs can provide a comfortable spot for children to relax. With a few key pieces of furniture, you can create a functional and inviting space that will meet the needs of your daycare clients.
2. Children's Toys
When it comes to choosing the best toys for a daycare, there are a few things to keep in mind. First, the toys should be safe for young children. They should also be durable and easy to clean. Additionally, the toys should be age-appropriate and encourage exploration and imagination. With these criteria in mind, some of the best toys for a daycare include soft blocks, puzzles, and dolls. Soft blocks are safe for young children to play with and can help them develop their fine motor skills. Puzzles are great for encouraging problem-solving and critical thinking. And dolls can help children develop their social skills by acting out different scenarios. Ultimately, any toy that is safe, durable, and age-appropriate can be a good choice for a daycare.
By following these tips, you can create a safe and nurturing environment for your daycare.
3. Nap time equipment
When it comes to setting up a successful nap time routine in a daycare setting, having the right equipment is essential. A comfortable cot or mat is a must, as it will provide a safe and cozy place for your little ones to rest. However, making sure each child has their own blanket and pillow is also important. This will not only give them a sense of security, but it will also ensure that they are able to get the most restful sleep possible. 
Having a few quiet toys on hand can be helpful for those times when kids just can't seem to fall asleep. By having all of the necessary equipment on hand, you can help to create a calm and relaxing environment that is perfect for naptime.
Every infant in your care is required to have a crib or a pack and play. For older children a mat or a cot will be sufficient but you will need the space to lay them all out.
4. First aid kit 
A well-stocked first aid kit is a necessity in any daycare setting. With young children, accidents are bound to happen, and being prepared can mean the difference between a minor scrape and a trip to the emergency room. Some essential items for a daycare first aid kit include: adhesive bandages of various sizes, sterile gauze pads, antibiotic ointment, hydrocortisone cream, tweezers, scissors, and disposable gloves. 
It is also a good idea to have a list of emergency phone numbers on hand, as well as a copy of each child's medical insurance card. By being prepared with the right supplies, daycare providers can help to ensure that minor accidents don't turn into major problems.
5. Mealtime Supplies
When it comes to mealtime supplies for daycare, there are a few key items that you will need to have on hand. First, you will need a table and chairs where the children can sit comfortably. You will need a supply of plates, cups, and utensils. It is also a good idea to have a few additional items on hand, such as napkins and paper towels. You will also need a way to keep the food warm until it is time to serve it. A pot or crockpot can be used for this purpose. By having all of these items on hand, you can be sure that mealtime at your daycare will run smoothly.
6. Website and Social media
When parents are looking for a daycare, they want to know that their children will be safe, happy and well-cared for. A website is a great way to show potential clients that your daycare is professional and trustworthy. By including information about your staff, facilities and curriculum, you can give parents the peace of mind they need to entrust their children to your care. 
A good website can help you to stand out from the competition. With so many daycares to choose from, parents often make their decision based on recommendations from friends or online reviews. By creating a website, you can present your daycare in the best possible light and attract new clients.
Creating a website is very easy to do and you can easily get a website up and running in one afternoon. A website can give you a place to communicate with parents if needed and to display important updates. 
Create a social media profile on Facebook. 
In today's world, Facebook is an essential tool for businesses of all kinds. Facebook can be used to connect with parents and guardians, share photos and updates, and promote special events. Perhaps most importantly, Facebook can help to build a sense of community around the daycare. When parents and guardians feel like they are part of a supportive and friendly community, they are more likely to recommend the daycare to others. 

Facebook can be a great way to connect with potential new customers. By creating a page and sharing relevant information, your daycare can reach a wider audience and attract new families.
There are a number of ways to find children for your daycare. 
Put up flyers in local business and community centers
Promote on social media that you are open
Run Facebook ads 
Contact local schools to see if they have any families that need daycare
Contact local business and ask if they have any employees who need daycare
Tell friends and social network that you have some open spots in your daycare
Contact other daycares and see if they would refer you to anyone kids they do not have room for.
With over 25% of preschool children needing daycare due to both parents working the market is huge. You should have no problem finding daycare kids if you present yourself in a professional manner and parents feel comfortable leaving their children with you. 
Benefits of starting a home daycare
Starting a daycare can be a rewarding way to care for children while also earning a living. It can be a challenging job, but it is also a very rewarding one. There are many reasons why you should start a daycare. 
1. It is a great way to earn a living. You can set your own hours and be your own boss. 
2. It is a great way to care for children. You will have the opportunity to nurture and care for children on a daily basis. 
3. You will have the opportunity to meet other parents who are in the same situation as you and learn from their experiences. 
4. You will be able to provide care for children in your community who may not have access to quality child care. Starting a daycare is a great way to make a difference in your community and in the lives of children.
What is the average cost to start a home daycare?
While every daycare is going to be a little bit different depending on the cost of licensing and insurance for your particular state the average cost to start a daycare is between $1,500.00 and $5,000.00 dollars.
This wide range has a lot to do with how much is required up front for insurance and state inspections. This can also depend on what supplies you need to get your home ready for some daycare kids.