Eurekaa is a software tool that allows you to search multiple online courses and books in seconds. This give you the chance to validate if your course and how it stacks up against the competition.
This software allows you to data mine for courses and content and create the program all at once.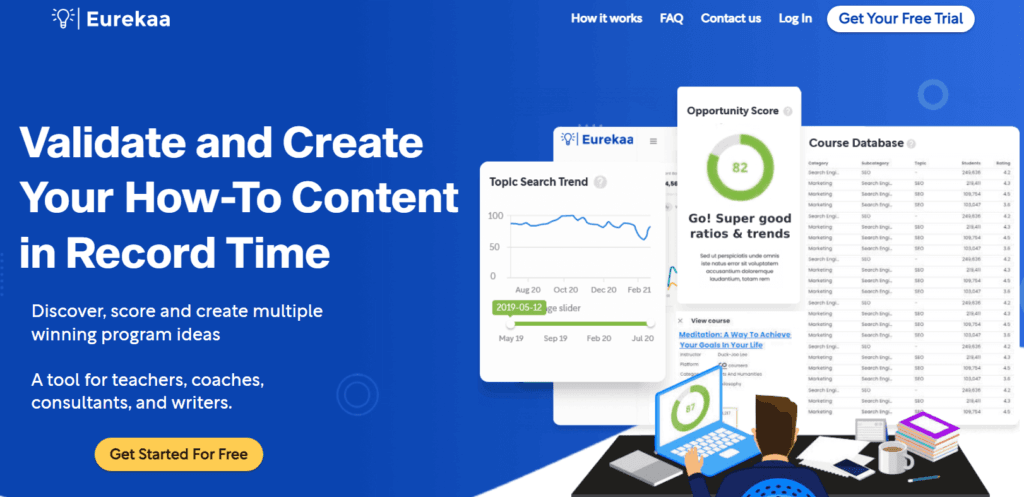 It also allows you to determine if your course has any value and what the market size may be for your course or book may be.
Eurekaa is a powerful research tool that can help you quickly find the courses and information you need. It searches across 8 online platforms, mining a database of over 200K courses and 400K+ categories. This allows you to filter by niche, topic, rating, enrollment or platform. Eurekaa is fast, efficient and easy to use. It's the perfect way to save time and get the information you need.
Eurekaa will determine if there are any market trends by showing the ratio of courses to students, how many courses teach it and what the search trend was for Google over the last couple of years. 
In seconds Eurekaa will show you all related courses on one topic 
Eurekaa is an online platform that helps users research and validate their business ideas. Eurekaa does this by analyzing a variety of factors, including enrollment data, the number of courses available in a given topic, and search trends. Eurekaa then uses this data to generate an opportunity score, which indicates the likelihood of success for a given business idea. Eurekaa's algorithm is constantly evolving, and the company is constantly adding new data points to its analysis. As a result, Eurekaa is able to provide users with an accurate and up-to-date assessment of their business ideas.
 It can be hard to find the right book information for your needs. With their search engine you'll never have trouble finding what statistics and resources are available on popular topics in seconds- no matter how large or small they may seem at first glance
Effortlessly discover books that match any criteria: specifically focused subjects, specific authors/books titles etc., as well as ratings (where available).
This allows you to determine how much competition you may have for a book or if the subject has been written about before. 
Content planner and keyword volume research
Once you pick your topic Eurekaa can help determine your keyword volume and help create a content plan for it.  
The pricing is very reasonable for what you get. I have no doubt as this software gets more popular the price is going to go way up.
If you are thinking about creating a course spending $69.00 for one year is a no-brainer. You are getting twice the features I have seen some other tools provide for a double the cost.