15 best Jasper Alternatives for 2022 with free trials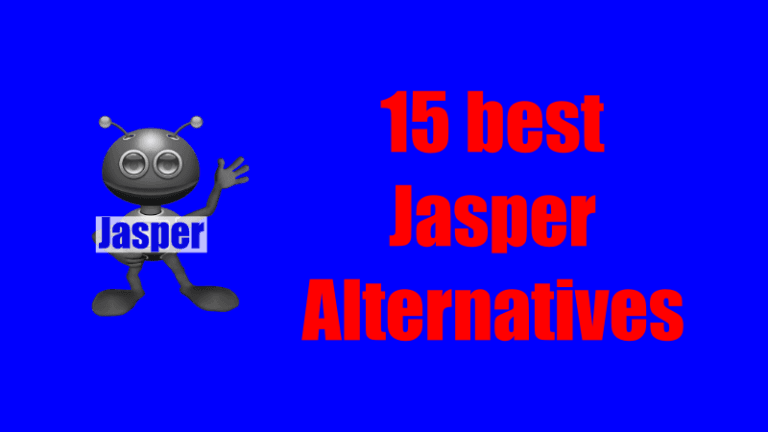 While Jasper AI is a great writing tools there are some good Jasper AI alternatives that you should consider. Here are 15 of the best alternative AI writing tools in 2022.
What are the 15 best alternatives to Jasper AI?
The 15 best alternatives to Jasper AI are:
1. Copy.ai
2. Rytr
3. Frase.io
4. Outranking
5. AISEO.AI
6. Scalenut
7. Anyword
8. Peppertype.ai
9. Writesonic
10. Grammerly
11. Neuroflash
12. Lavender
13. WordAI
14. Copymatic.ai
15. Simplified
Each one of these Jasper alternatives can be good for helping you supplement your writing needs. 
No AI writer is as good as  a true copy writing professional but AI writing tools can help get the creative juices flowing and provide you some writing examples to get started with your project.
Copy.ai is a copywriting tool that helps you create copy for your website or product. It's a great alternative to Jasper because it's easy to use and it has a lot of features. For example, copy.ai has a built-in grammar checker so you can be sure that your copy is error-free. It also has a thesaurus that you can use to find the perfect word for your copy. And if you're not sure what to write, copy.ai can generate copy for you based on your keywords. So if you're looking for an alternative to Jasper, be sure to check out copy.ai.
According to Rytr this is what they have to say about their software
Rytr is the best all-in-one writing platform that provides users with powerful features to manage everything from one place. Rytr makes writing hassle-free by taking care of SEO, grammar, and more while you focus on getting sh*t done. Rytr is the perfect tool for bloggers, content creators, and anyone who wants to streamline their writing workflow. With Rytr, you can finally get your work done with minimal fuss. So what are you waiting for? Try Rytr today!
According to Frase.io their software was rated number one on Capterra on 2021.Looking to step up your SEO game? Then you need frase.io! With their all-in-one content workflow tool, going from keyword to SEO-optimized article has never been easier. Research your competitors, create content briefs, write and optimize your content all in one place – frase.io is the ultimate tool for anyone serious about their SEO strategy.

When it comes to SEO, content is king. But creating high-performing content can be a time-consuming and expensive process. That's where Outranking comes in. Outranking is the AI-powered SEO platform that provides everything you need to plan, write and execute your content strategy for maximum ROI.
Outranking's intelligent technology analyzes your existing content and compares it to the best performing content on the web. It then provides actionable insights and recommendations on how to improve your ranking. And because Outranking is powered by AI, it gets smarter over time, so you can focus on what you do best and leave the SEO to us.
Are you looking for a WordPress SEO plugin that is both easy and powerful? Look no further than All in One SEO. Our plugin is the best WordPress SEO plugin on the market, period. Here's why:
With All in One SEO, you get all the features you need to optimize your WordPress site for search engines. We have everything you need to make your site rank higher in search results, including:
-A user-friendly interface that makes it easy to configure the plugin
-Advanced features for power users
-Support for major search engines like Google, Bing, and Yahoo!
-The ability to fine-tune your site's titles and descriptions for maximum impact
-A built-in XML sitemap generator to make sure your site is fully indexed by search engines
If you're looking for a simple and scalable way to produce content that will help your business achieve its goals, then Scalenut is the answer. With AI tools to assist you, Scalenut will help you stay ahead of your competition.
Looking to boost your sales and get more conversions? Anyword is the perfect solution for you. With our powerful predictive analytics, you'll know what works before you even publish it. And our AI writer ensures that your copy is optimized for maximum impact. So why wait? Get started today with Anyword!
If you're looking for a content creation tool that will help you produce more engaging, persuasive, and creative content, then you need Peppertype.ai. This powerful copywriting tool will help you come up with new ideas and turn them into compelling content that your audience will love. With Peppertype.ai, you'll be able to create more content in less time, and with better results. 
Looking to write a blog post or article that is SEO-optimized and packed with relevant keywords, but don't have the time to do all the research? Well, Writesonic is here to help! As the world's first AI writer, Writesonic can create a long-form (up to 1500 words) article in just 15 seconds. All you need to do is enter your topic, and Writesonic will do the rest! Not only that, but all of your content will be 100% original – meaning you'll never have to worry about duplicating someone else's work. So why wait? Get started today with Writesonic and see how much easier your life can be!
While not a traditional content creation tool Grammarly will help you write faster allow you to write without worrying how it sounds. If you're looking for a writing tool that will help you write faster and more accurately, look no further than Grammarly. Grammarly is the perfect tool for anyone who wants to improve their writing skills. Whether you're a student, a professional writer, or just someone who wants to write better emails, Grammarly will help you get the job done.
If you're looking for a way to accelerate your content creation and never stare at a blank page again, neuroflash is the perfect solution. With over 80 short- and long-form text types, our AI-generated content is of the highest quality. Plus, our simple interface makes it easy to get started immediately. So why wait? Sign up for Neuroflash today and see the difference for yourself!
If you're looking for a way to get more replies to your sales emails, look no further than Lavender. It's the #1 sales email assistant that can help you personalize your messages, write more impactful emails, and improve your coaching skills. Install it for free today and see how much easier it is to get the results you want.
Looking to really boost your content output? Tired of waiting around for things to get done? Word.ai is here to help you get 10x the results in a fraction of the time, thanks to our amazing artificial intelligence technology. With Word.ai, you can create more high-quality content that both Google and your readers will love. So why wait? Get started today and see the amazing results for yourself!
Looking to generate content and copy quickly and easily? Copymatic.ai is here to help! With their AI-powered platform, you can create unique, engaging, and high-quality content in seconds. From long-form blog posts and landing pages to digital ads, we've got you covered. 
Looking to boost your marketing efforts with little effort? Check out Simplified – the AI copywriting generator that writes instant marketing copy in seconds! With over 50 different types of copy available, you're sure to find the perfect fit for your needs. Plus, all content is unique and plagiarism-free, so you can focus on other aspects of your business. 
While Jasper may be the best of the copy writers out there right now. All of these are worthy alternatives that you should consider. 
After researching all these tools. AI writing tools are getting really advanced. The company or writers that start using these tools and mastering them will be way ahead of the companies that don't take advantage of them. 
Artificial intelligence is only going to get better and to stay on top of this trend companies should start using them now.