10 pro Auto repair invoicing software | Free and paid versions
Auto repair invoicing is the process of creating an invoice for auto repairs. This usually includes the cost of parts and labor, as well as any other fees like taxes associated with the repair. In most cases, auto repair invoicing is done through a software program that allows the shop to generate an invoice quickly and easily. However, some auto repair shops still use paper invoices, which can be time-consuming and difficult to keep track of. Either way, auto repair invoicing is an important part of running a successful auto repair business.
the best 10 auto repair software.
The best software is going to depend on the size of your shop and what you need the software to do. The best software is an all in one tool that can combine appointment setting with creating estimates and finally create an invoice when all the work is done. 
Free software like Wave is only going to create a professional looking invoice for you. It doesn't allow you to set appointments directly in the software. 
Auto repair shops and mobile mechanics require auto repair software that is designed to be user friendly and reliable. Auto repair software makes it easier to manage your auto repair shop, keep accurate track of your work documents and finances, makes your business more efficient and profitable. It also helps you to keep track of your customers' vehicles and their maintenance schedule. By using Auto Repair Bill you can be assured that your auto shop is running smoothly and efficiently.
 Detailed client and vehicle billing dashboard
Vin/Plate Lookup 
Get full service car reports in North America
Send Estimates and Quotes by email
Cloud based
Carfax integration
One click invoice creation
Easy work order creation
Preset your most used invoices templates
CarMD advanced diagnostics and repair data.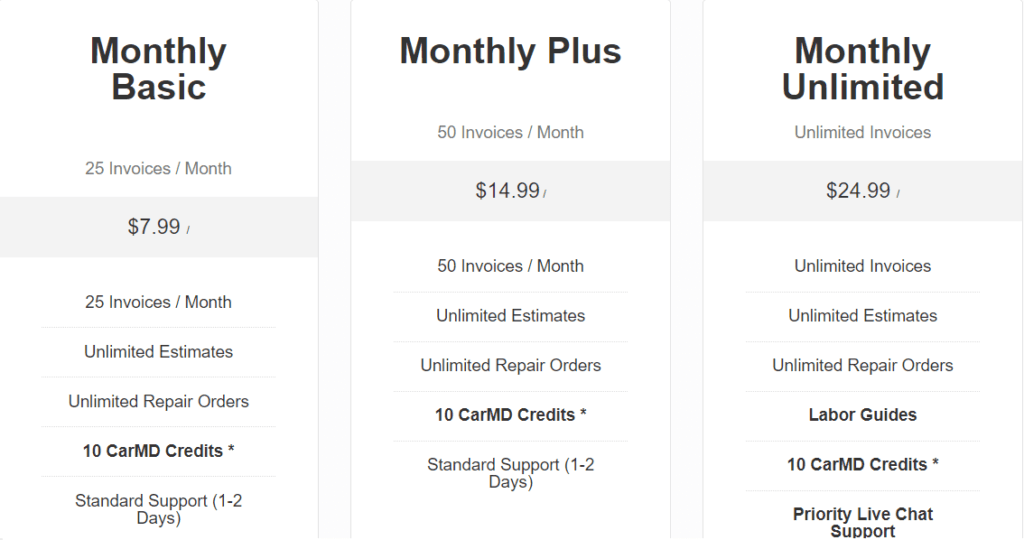 ARI offers the most comprehensive auto repair software on the market. ARI is suitable for auto repair shops, mobile mechanics, independent technicians, and auto dealers. 
Features:
ARI offers a wide range of features to streamline your workflows, including: 
ARI provides invoicing, quotes, and scheduling capabilities that are fully integrated with QuickBooks Online.
2. ARI offers a customer portal that allows your customers to view their invoices, statements, and account balance.
ARI's mobile app allows you to create invoices, quotes, and appointments on the go.
ARI integrates with popular third-party software such as Shop Boss and Auto PartsWarehouse.com.
ARI offers a wide range of reports to help you track your business performance. 
Vehicle management
Inventory Management
Full Accounting software
Lots of Reports and Statistics to help you run your business
Custom job cards and work orders
ARI's software is constantly updated with the latest features and integrations to help you run your business more efficiently.
Pricing: Free and Paid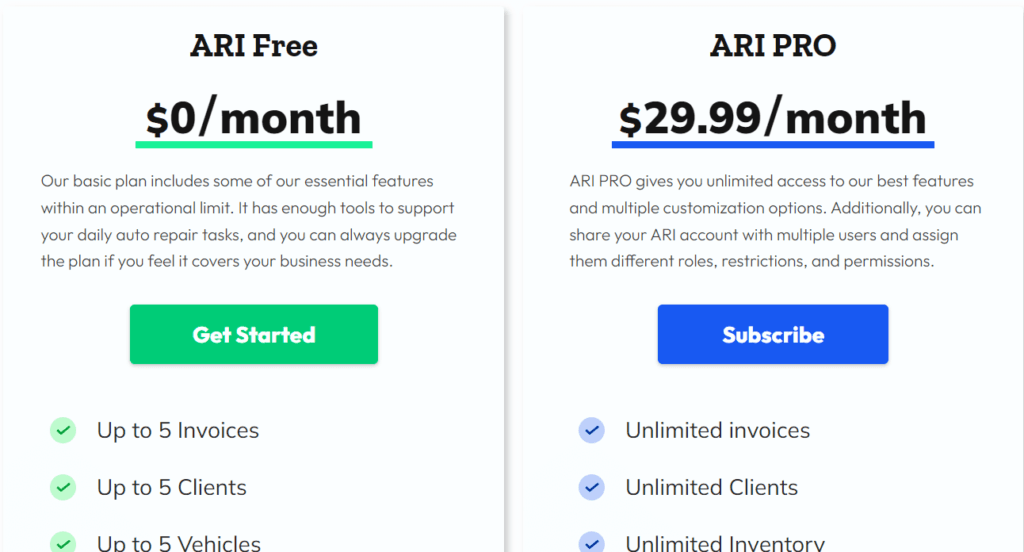 Invoice2go is an invoicing software that helps businesses streamline their accounting. The software offers a variety of features that are perfect for auto repair shops, such as the ability to accept payments from customers and create easy-to-use invoices. It also offers a variety of other features that make it a valuable tool for businesses, such as the ability to track expenses and create reports. 
Features:
Easily Create invoices for the work you have done
Take payments online
Set up a bank account with their software
Manage all your projects in one place
Lots of detailed reports to help manage the business
Run your payroll with their integrated software
Lots of integration into other software
Create custom estimates
Request and publish customer reviews
Free invoice templates
Pricing: Free and Paid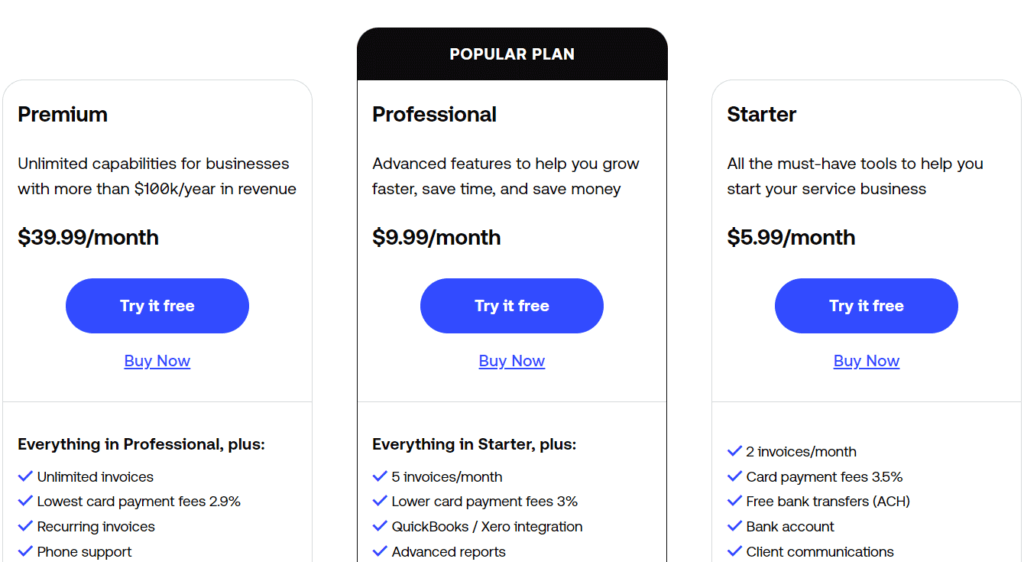 Auto Leap is the cloud-based auto repair shop software . It's easy to use, helps you grow, and builds customer trust. With Auto Leap, you can make your customers happier, your shop more profitable, and your life easier. Their software can be the complete package. It has everything you need to run your shop efficiently, including an appointment scheduler, invoicing, and reporting. Plus, it integrates with major automakers' service departments so you can always keep your customers up-to-date on their car's status.
Features:
 Digital Vehicle Inspections
Set up marketing campaigns
Fleet management
Request Google reviews
Schedule service follow-ups
Go digital and push internal surveys to customers and get their feedback
Easy scheduling
Create estimates with built-in parts and labor guides
Integrates with quickbooks
Inventory management
Pricing: You have to request a demo to get pricing
AutoFluent is a powerful automotive business management system that gives you the easy-to-use tools you need to run more cost-effectively. Their intuitive business dashboard provides a more accurate view of all aspects of your business – enabling you to improve how you track and manage your customers, employees, sales, inventory and suppliers. AutoFluent is one of the only automotive business management system that offers a complete suite of integrated applications, including CRM, Service, Parts, Accounting and HR.
Features:
Uses carfax to quickly get vehicle data
Easily create and track services for each vehicle
Track profit with each work order
Vehicle model and tire lookup size 
Paperless invoicing
Labor guides for each zip code
 Inventory management software
Integrated accounting
Hosted on the web
Customer tracking
Pricing: Free Demo
Shop Monkey is a cloud-based auto repair solution designed to help businesses manage processes through appointment scheduling, messaging, reporting & digital vehicle inspection tools. Their software lets users track inventory, update order statuses & reach out to vendors for purchasing missing auto parts. Shop Monkey also offers a vendor management system that helps businesses keep track of their suppliers & compare prices on auto parts. By streamlining the process of ordering & managing auto parts.
Features:
Create estimates from anywhere
Communicate with customers however they prefer
Inventory Management
Payment Processing 
Custom Workflow for techs
Team Management
Reports that can quickly tell you the status of your company 
Mobile App
Have financing available for growth
Integrates with other software
Pricing:
Shop-Ware is the leading Shop Management Software for automotive repair businesses. Shop-Ware's shop management software provides professional-grade solutions to the industry's leading businesses. Their software is available on the cloud, phone optional, and paper-free. Shop-Ware's shop management software is designed to help businesses manage their customers, technicians, vehicles, inventory, and invoicing.
Features:
Parts gross profit analyzer lets you see what the gross profit on your parts will be.
Digital Vehicle Experience
Get an overview of the health of your shop
Customize estimating system eliminates mistakes
Inventory management software
Digital work flow 
Employee Management
Repair shop analytics allows you to manage your shop by the numbers
Can expand to multiple shops
Native parts catalog
Pricing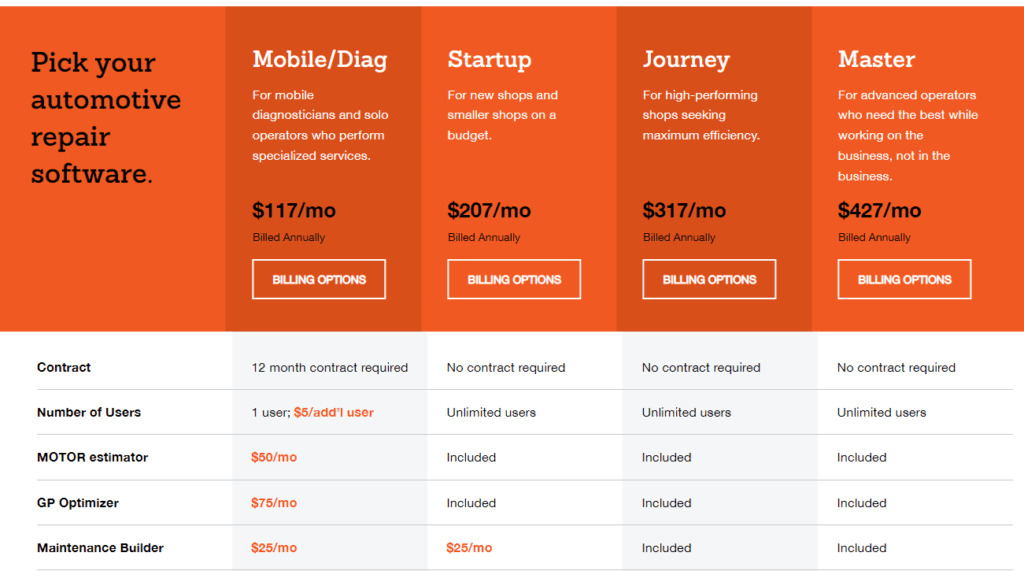 Wave invoicing software is the best free invoicing software. Wave allows you to create and send invoices in minutes, track payments, and more. Wave also offers a suite of other features, including accounting, payroll, and payments. Wave is the only free invoicing software that offers all of these features in one place. Wave makes it easy to get paid faster and manage your finances in one place. With Wave, you can save time and money. Wave is the best free invoicing software for small businesses. Wave makes it easy to get paid, stay organized, and grow your business. Try Wave today!
What I liked about Wave: 
100% free if you don't use any addons 
Get paid via credit card if you sign up for their credit card processing service
Wave can send overdue reminders automatically
Has a recurring billing function
Invoicing and payment information can sync with your account
Pricing: Free
Zoho invoicing software is an application that helps small businesses create and send invoices to their customers. Zoho Invoice integrates with Zoho Books, Zoho CRM, and Zoho Expense, making it easy to track customer payments and expenses. Overall, Zoho Invoice is good free invoicing option for the small business on a tight budget.
What I liked about Zoho invoicing: 
Know when an invoice is viewed by a customer – You can set up the software to notify you when an invoice is viewed by a customer through the portal. 
View invoice history – Keep track of changes of the invoice for payments received and when more expenses were added.
Brand your invoice – Add customizable branding to your invoice with a logo and colors that are unique to your brand.
Multiple Pre-made templates – Choose from a large library of pre-made templates and customize to fit your brand. 
Create multilingual and multicurrency invoices.
Compliant with ESIGN and eIDAS e-signature laws
Set recurring invoices – If you have a service or customer that receive periodic services you can set up invoices to go out automatically. 
Get real-time invoice reports. You can run real time reports or schedule them to run on recurring basis and receive them by email.
Easy estimates – Create estimates and turn them into invoices with one click.
Time tracking – Zoho allows you to log and track time spent on projects. 
Pricing: FREE
FreshBooks is a cloud-based accounting software designed to help small businesses save time and manage their finances. The software is easy to use, and it offers a variety of features that can help save businesses time and money. FreshBooks has received high marks from users for its ease of use and its ability to save businesses time and money. The software is also praised for its customer service, which is available 24/7. FreshBooks offers a free trial, and it plans to introduce a new feature, FreshBooks Payroll, later this year.
FreshBooks has lots of features that are essential to running your business. It can keep track of income and expenses, and can integrate with your bank account to show you where you stand. 
Features
Professional Invoicing – Impress Clients with customizable professional invoices that clearly show the work you have done. 
 Expenses – Never miss a expense, you can snap receipt photos, email receipts to your account, and import expenses directly from your bank account. 
Track time to the minute – You can work on multiple projects at once and log the times into FreshBooks. This will automatically add the time to invoices if you choose to bill that way. 
Set up Multiple Projects – Projects allow you share information all in one place and keep everyone updated. 
Automated Payments – You can give your clients multiple ways to pay. From credit cards to multiple other options, making it easy for your client to pay their invoices.
Reporting – FreshBooks can track every dollar in and out of your business so you can run any report you want to diagnoses any issue you may have with cash flow. This also makes it easy at the end of the year when tax time comes around. 
Accounting – Has Double-Entry Accounting tools and reports that are the standard for all accredited accounting firms. 
Mobile – You can send invoices track expenses, and check up on projects all on the go with the FreshBooks mobile app.
Good Customer Support – FreshBooks says that a real human will always answer your calls and help you with your questions. 
Pricing: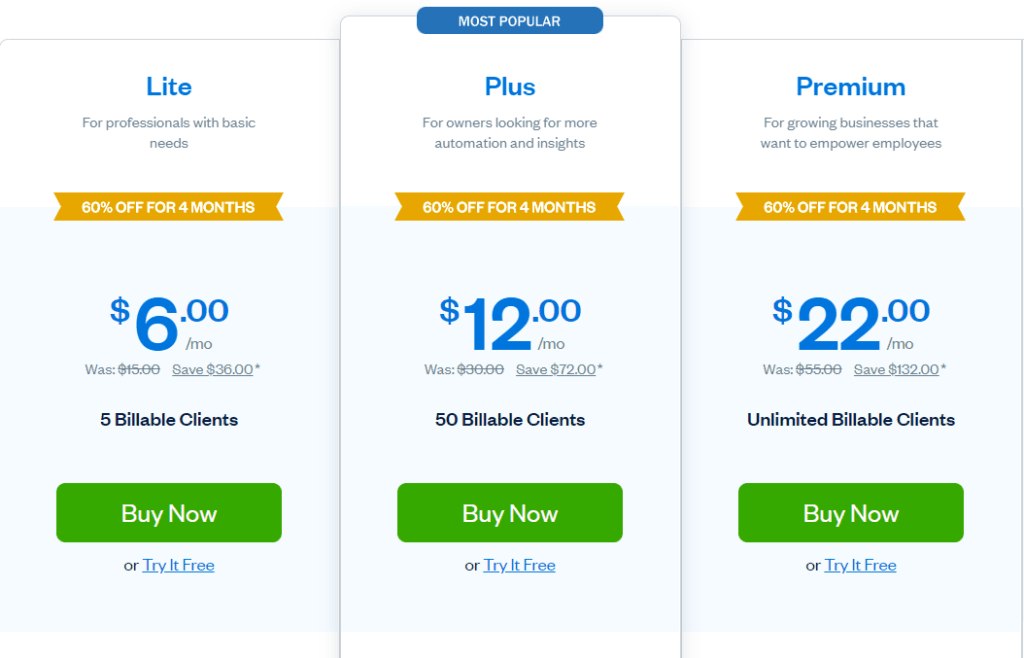 Frequently Asked Questions
How do you write an auto repair invoice?
The best way is to use one of the free software available or create a form in Microsoft office of Google suite. An auto repair invoice is a document that itemizes the charges for auto repair services. It should include the name and contact information of the auto repair shop, as well as the name and contact information of the customer. The invoice should also list the details of the auto repair services performed, including a description of the work, the date it was performed, and the charge for each service. Finally, the invoice should include a total charge for all services rendered.
What is a mechanic invoice?
A mechanic invoice is a document issued by a mechanic to a customer for services rendered. The mechanic invoice typically includes a description of the work performed, the parts used, the labor charges, and the total cost. The mechanic may also include other information such as the customer's name, address, and phone number. The mechanic invoice is an important tool for both the mechanic and the customer, as it provides a record of the work performed and the costs involved. For the customer, the mechanic invoice can be used to verify that the work was performed as agreed upon and that all charges are accurate. For the mechanic, the invoice can be used to track payments and ensure that customers are satisfied with the work performed.
What does SUBL mean on an auto estimate
SUBL means Sublet Repairs
These are repairs that a mechanic subs out in his repair shop. These repairs are done by a third party and can include things like window and glass, autobody repairs, and tire alignments. 
What can a mechanic due if a customer doesn't pay?
Mechanics deserve to be paid for their work. However, there are occasions when a customer may not pay for the work that was performed. In such cases, the mechanic has the right to file a mechanic's lien against the vehicle. This lien gives the mechanic a legal claim to the vehicle until the bill is paid in full. If the customer still does not pay, the mechanic can then file a lawsuit to try and recover the money that is owed. In short, mechanics have a number of legal options available to them if a customer does not pay for their services.